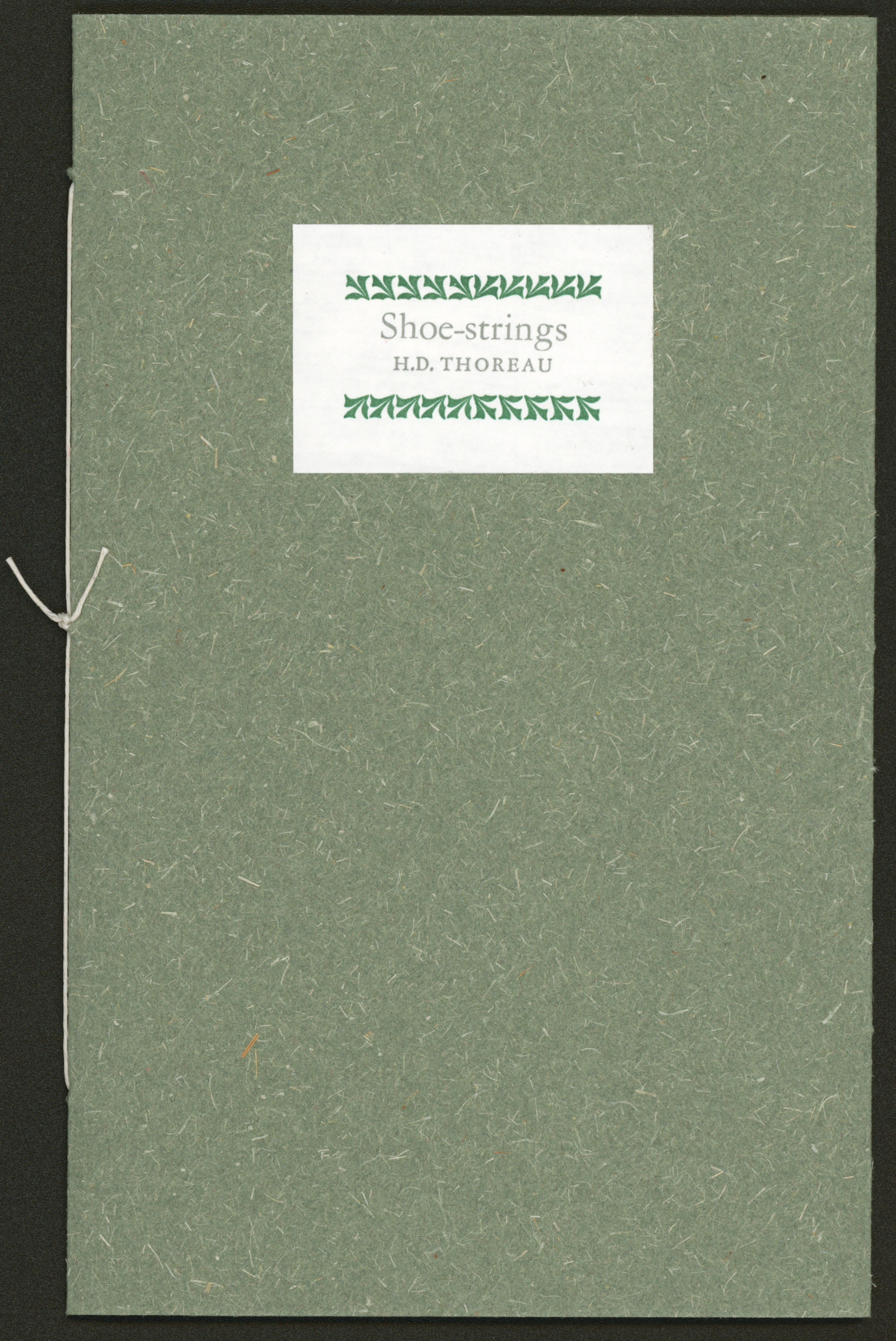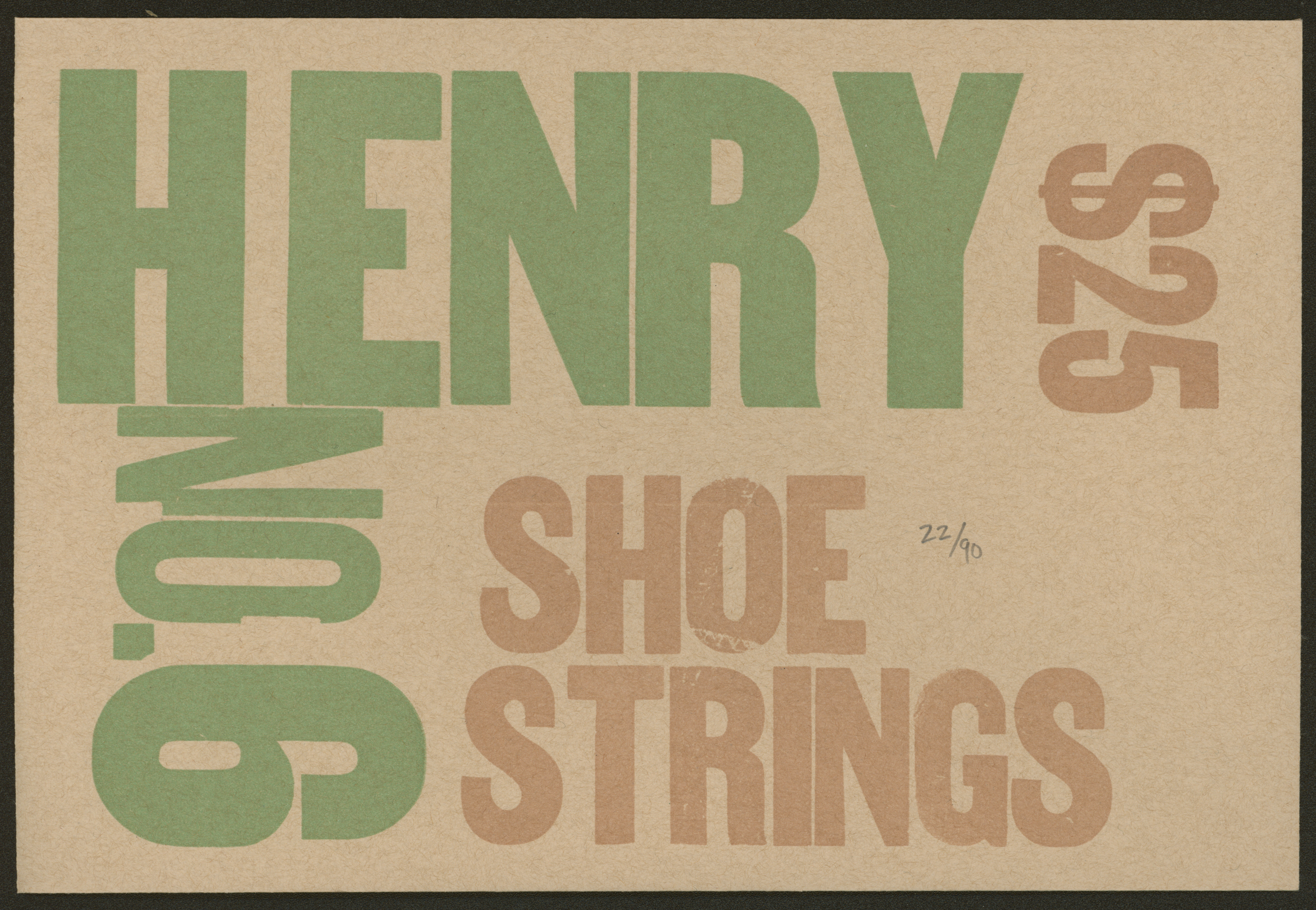 Shoe-strings
by Henry David Thoreau
In this amusing passage from the journals of Henry David Thoreau, Henry considers the problem of keeping one's shoestrings tight on long walks and discovers that he's never properly learned how to tie his shoes (despite being a graduate of Harvard College). This is item number six in the 'Henry' series.

This book was typeset in Intertype Garamond and Monotype Garamont and printed letterpress on Zerkall mouldmade paper in black, green and grey.

Bound with a three-hole stitch in a green Saint Armand Canal paper. Comes in an envelope printed in three colours. Octavo format. Limited edition of 90 copies.

$25.00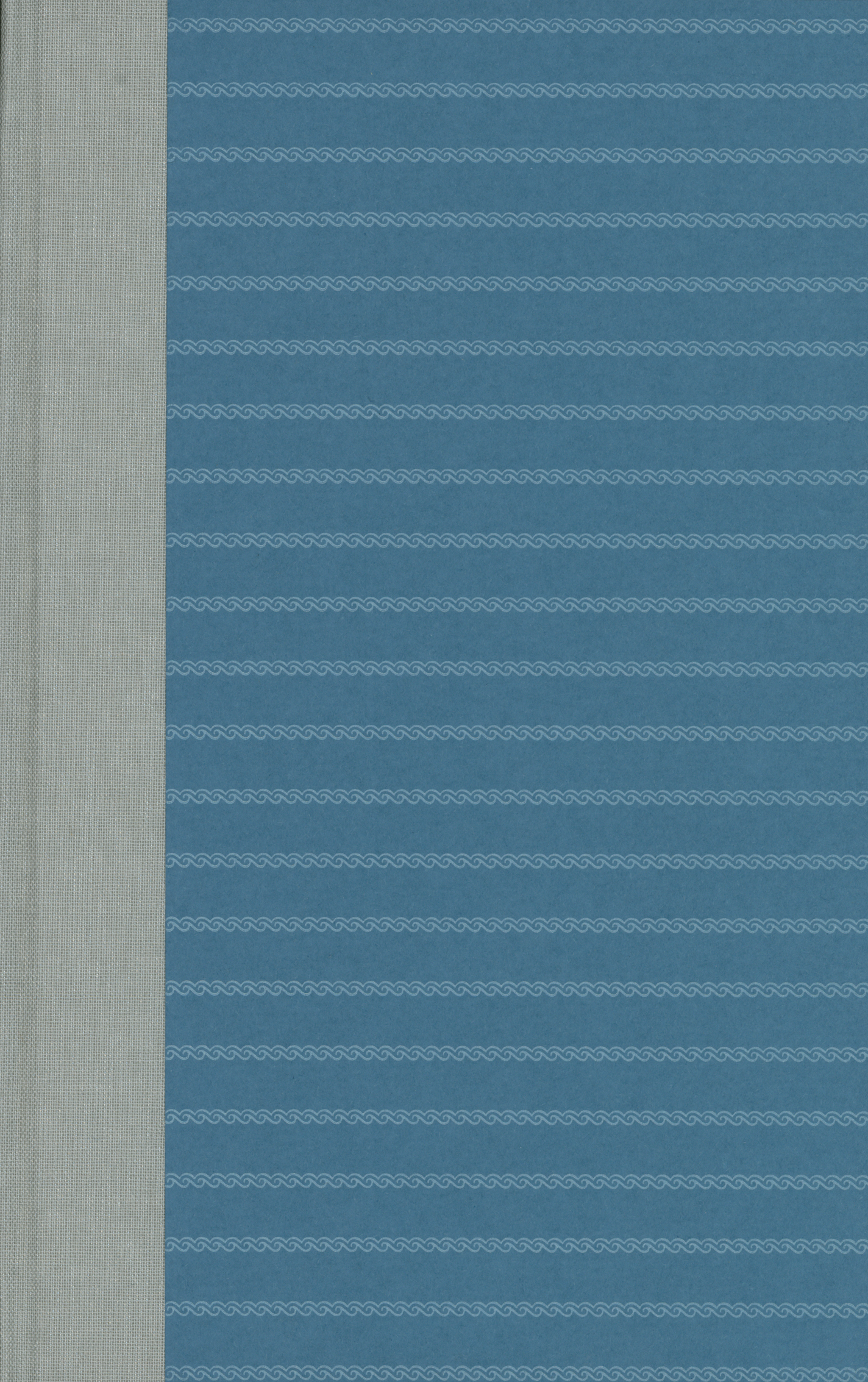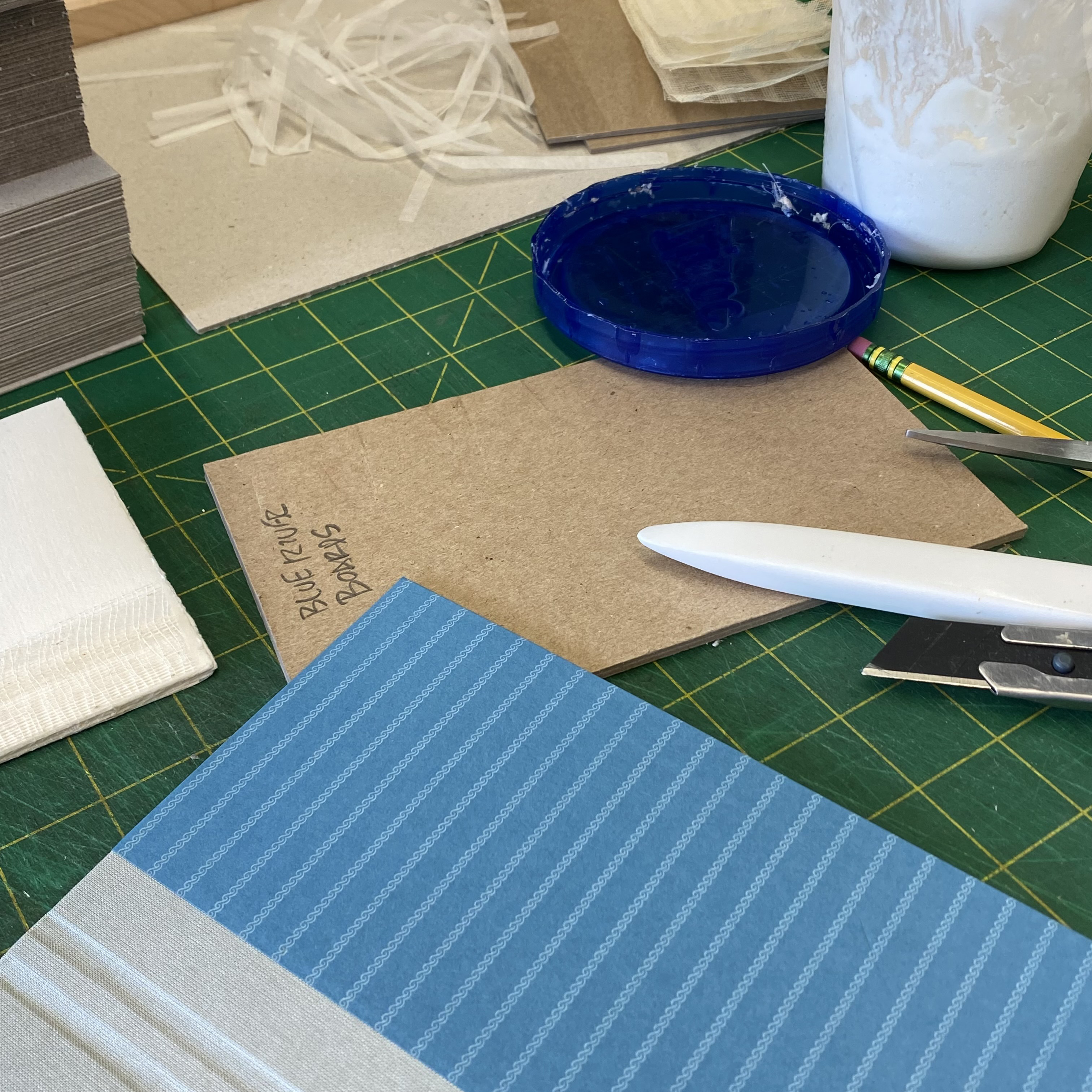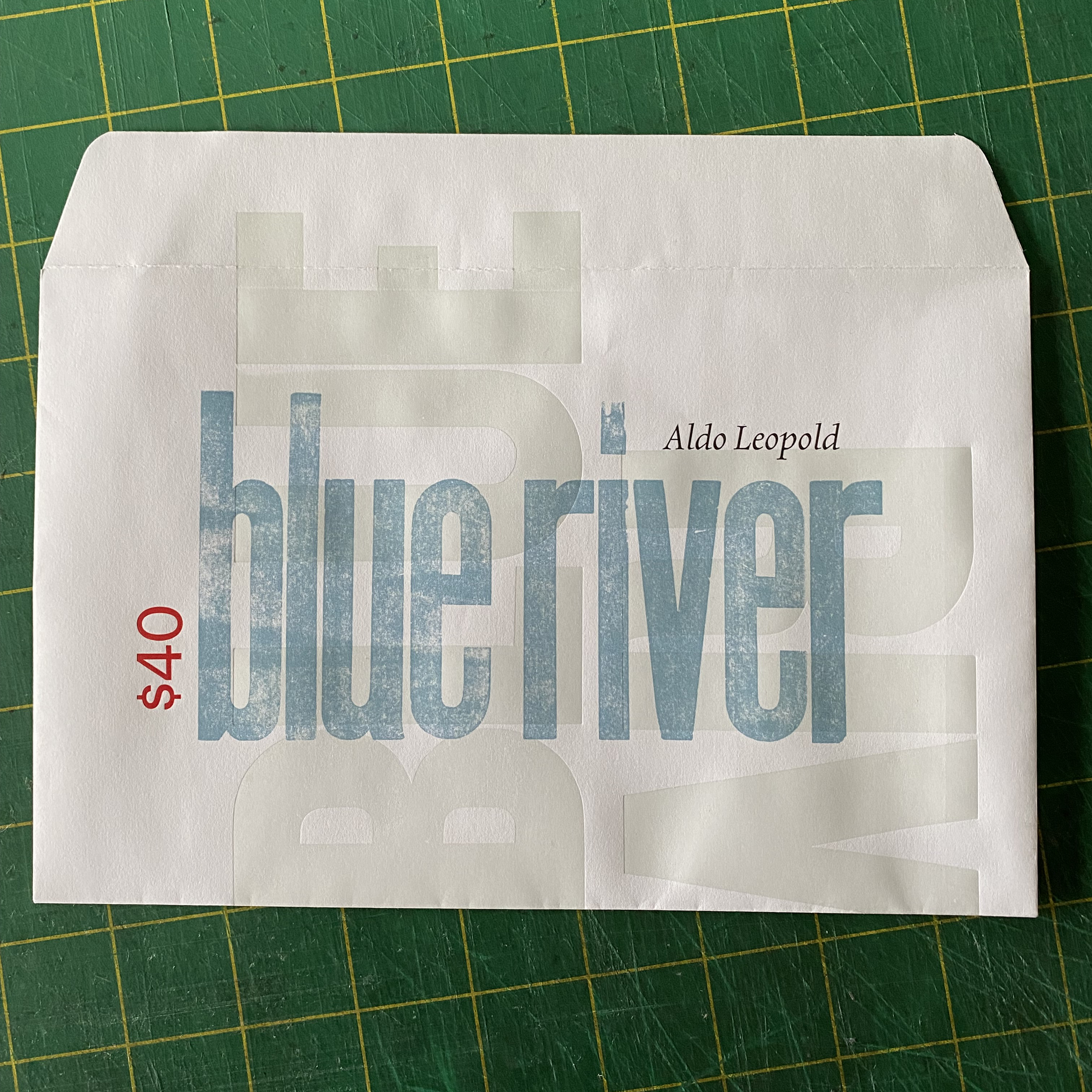 Blue River by Aldo Leopold

Aldo Leopold's short description of a cow perishing on a sandbar in the Blue River wilderness—a kind of postcard story or prose poem—gives the reader an intimate, matter-of-fact glimpse into the way in which life and death intertwine in the natural world. The directness and economy of Leopold's prose belie the expansiveness of insight and empathy it evokes. Best known for his book A Sand County Almanac, Leopold (1887–1948) was a forester, teacher and author who helped to establish the modern land conservation movement.

This book was handset in Monotype Dante and wood type and printed in a limited edition of 70 copies on a Vandercook proof press. The text paper is Zerkall mouldmade. Twelve pages were handsewn with doubled endpapers and then casebound, cloth and paper over boards. Includes a three-colour wood engraving by Wesley Bates.

$40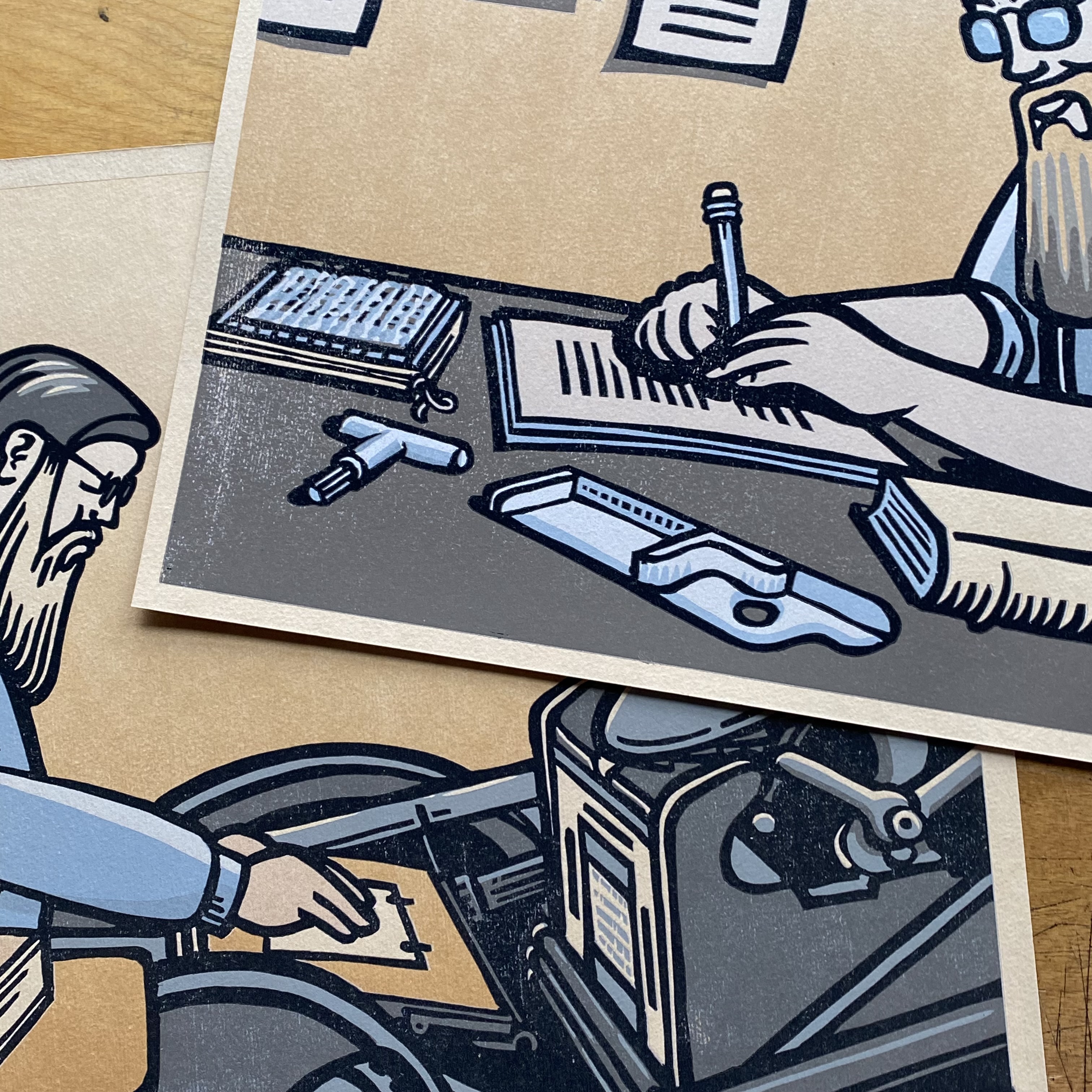 Makeready: An interview with Gray Zeitz of Larkspur Press, with commentary by Andrew Steeves and two linocuts by Michael Hepher

Gray Zeitz is a celebrated letterpress printer and literary publisher based in rural Kentucky. This interview explores how the fine press book tradition and techniques he learned on an iron handpress influenced his work with more pragmatic jobbing presses. Includes extensive commentary by Andrew Steeves and two original reduction linocuts by Michael Hepher of Clawhammer Press.

Specification: Typeset in Linotype Janson & Monotype Joanna. Printed in black, red and grey on dampened Saint Armand Old Masters handmade paper. Folded to 7.5 × 11 inches making 40+ pages. Includes two original reduction linocut prints by Michael Hepher. Handsewn on tapes, casebound (cloth over boards) and slipcased. Limited edition of 50 numbered copies.

$650
A Button Intercepts the Light and Casts a Shadow
by Henry David Thoreau

Sometime after the wreck of the steamship Elizabeth on July 19, 1850, Henry David Thoreau travelled to Fire Island, New York, to investigate the drowning of the transcendentalist writer and editor Margaret Fuller and her husband, the Marquis Giovanni Angelo Ossoli. This short passage from Thoreau's journal chronicles his reaction to the tragedy and records his call to live life fully: "If you can drive a nail and have any nails to drive, drive them." This is item number five in the 'Henry' series.

This book was typeset in Linotype Fairfield and printed letterpress on Arches Johannot mouldmade paper in black and grey. Bound with a three-hole stitch in a black Saint Armand Canal paper printed in grey and transparent white. Comes in a black paper portfolio. Octavo format. Limited edition of 50 copies.

$20.00

Out of Print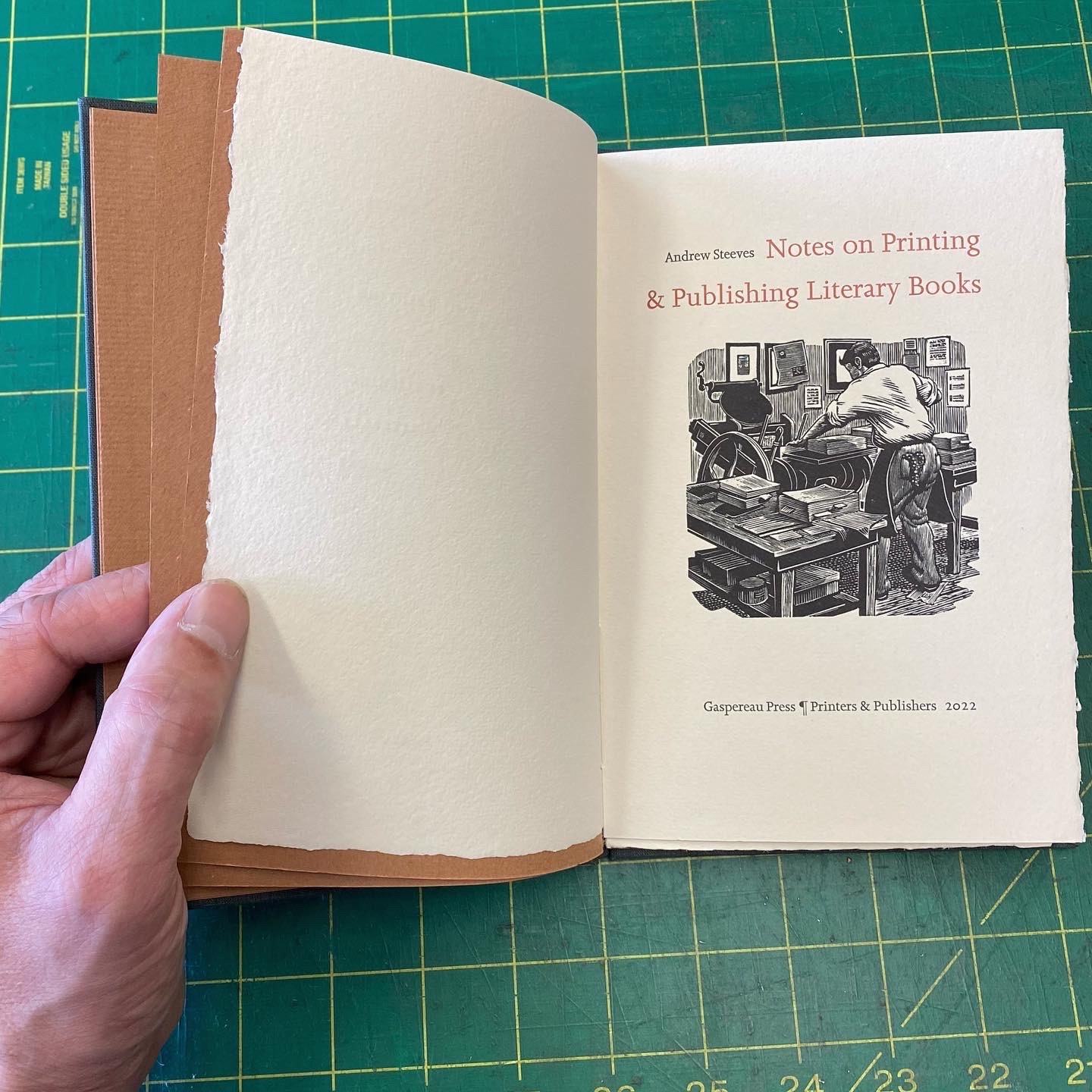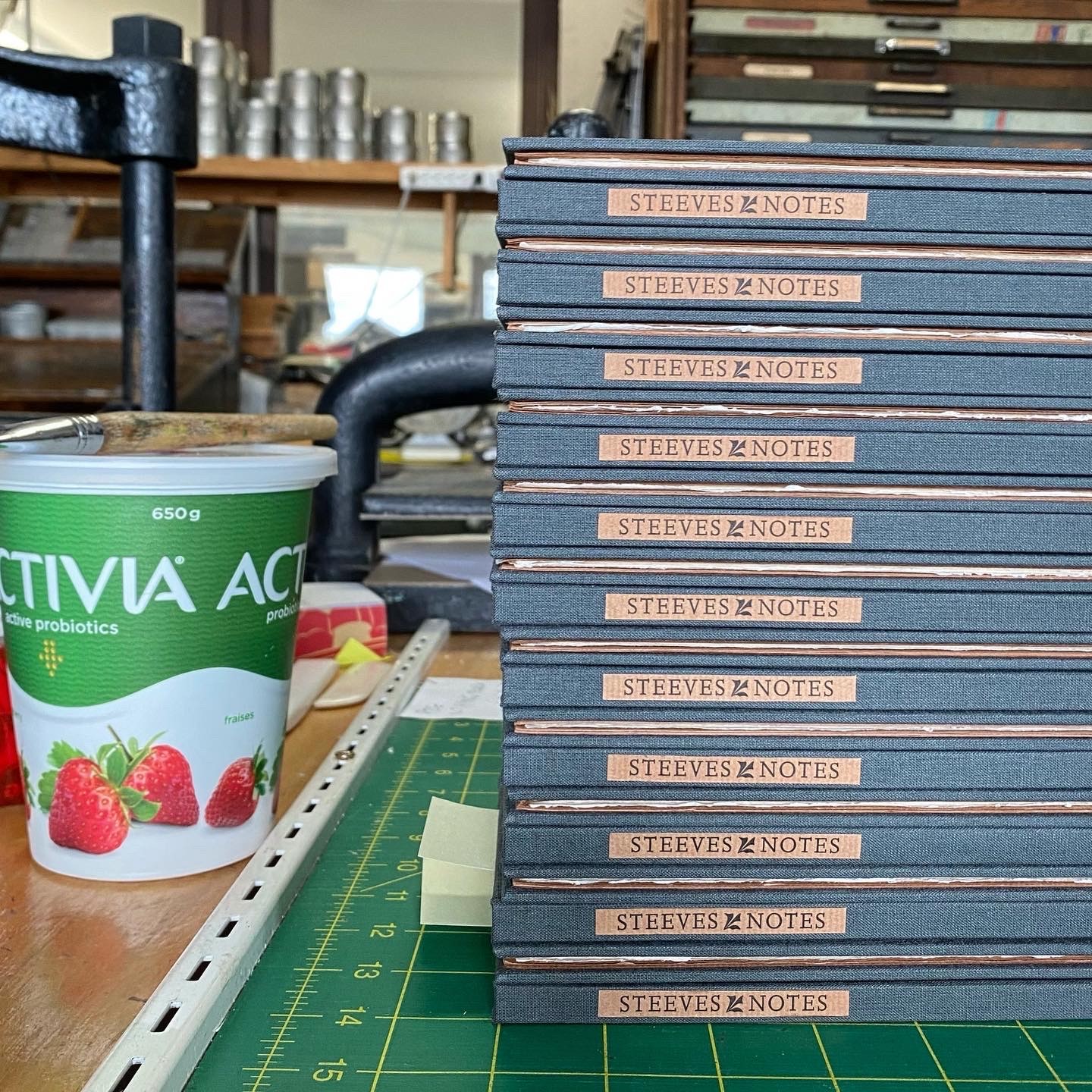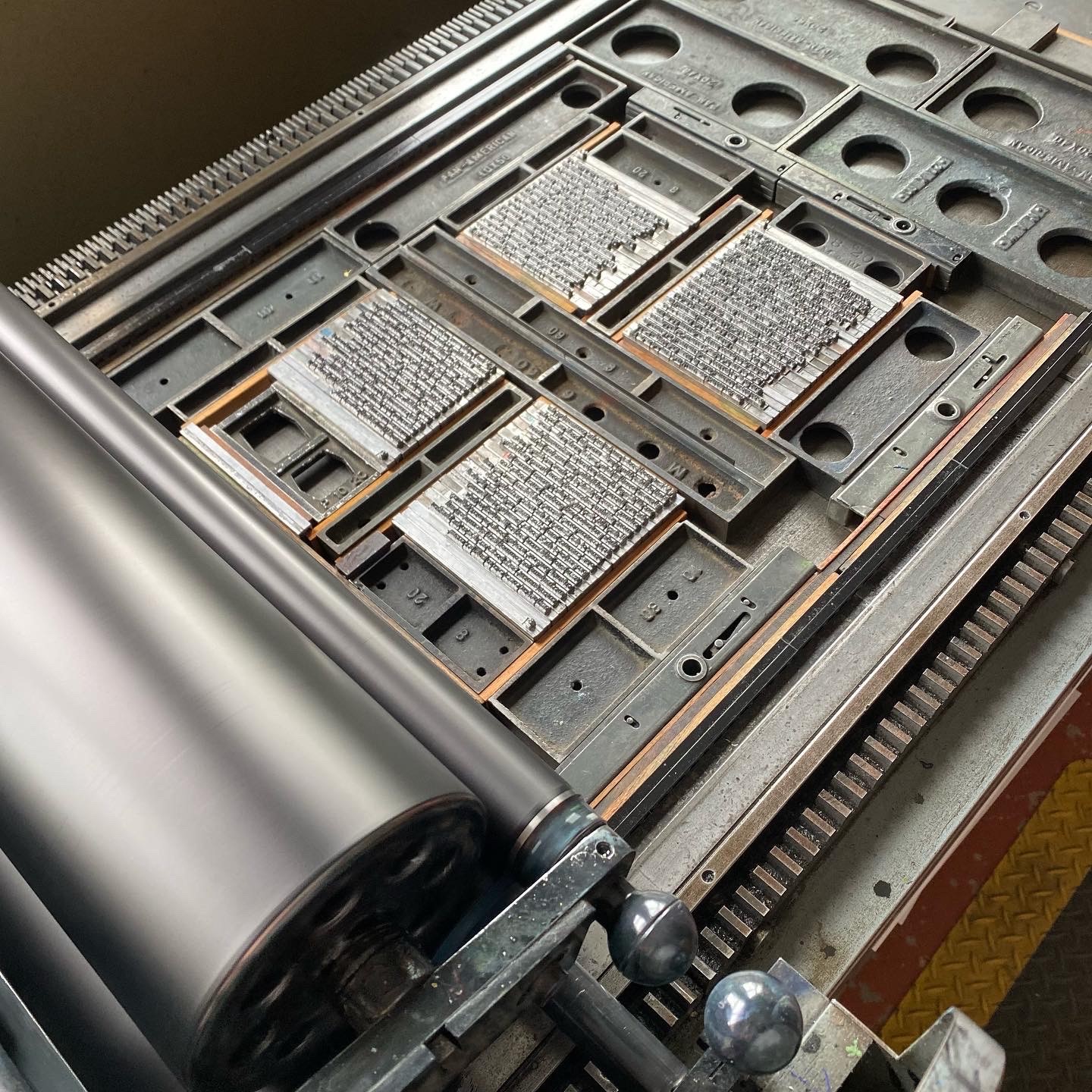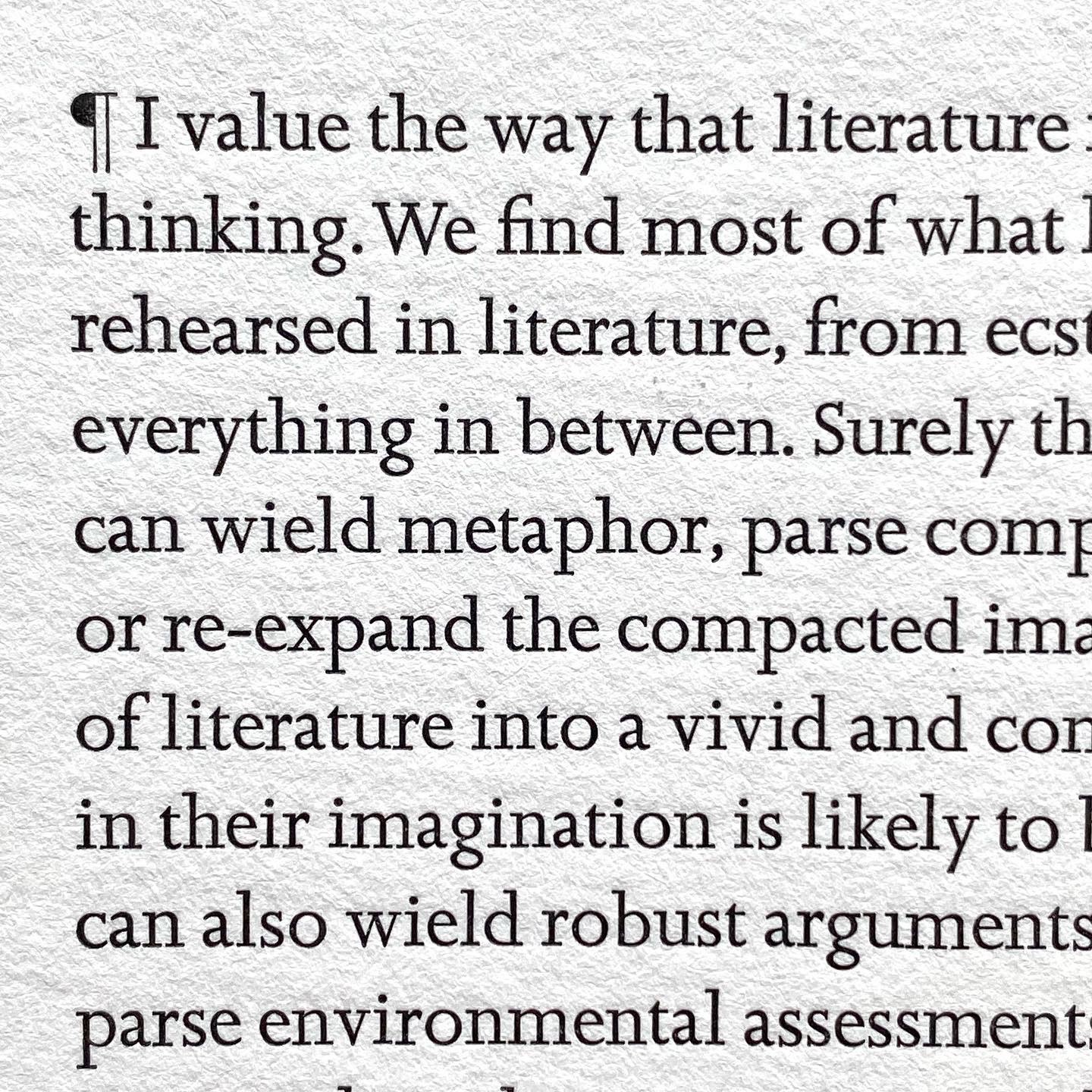 Notes on Printing and Publishing Literary Books (Special Edition)
by Andrew Steeves, engraving by Wesley Bates

The essay Notes on Printing and Publishing Literary Books reflects on the robust tool that books are and the relationship between the literary publisher and the community, asking the deceivingly simple question "What is Literary Publishing for?" Drawing on a quarter century of experience editing, publishing and manufacturing literary books, Andrew Steeves asserts the extraordinary potential that well-made books hold for helping us to understand what is happening to and through our communities, and the pleasure that can be found in creating such books with thoughtfulness and love.

SPECIAL EDITION: Typeset in Monotype Joanna. Printed in black and red on vintage Barcham Green Sandwich wove handmade paper. Includes an original wood engraving by Wesley Bates. Saint Armand Old Masters handmade paper endpapers. Handsewn on tapes. Casebound in dark grey cloth over boards with a printed paper label on the spine and enfolded in a tan Saint Armand Old Masters handmade paper jacket printed from wood and metal type. Issued in a kraft wrapping paper. Edition of 20 copies lettered A through T.

Out of Print

$180.00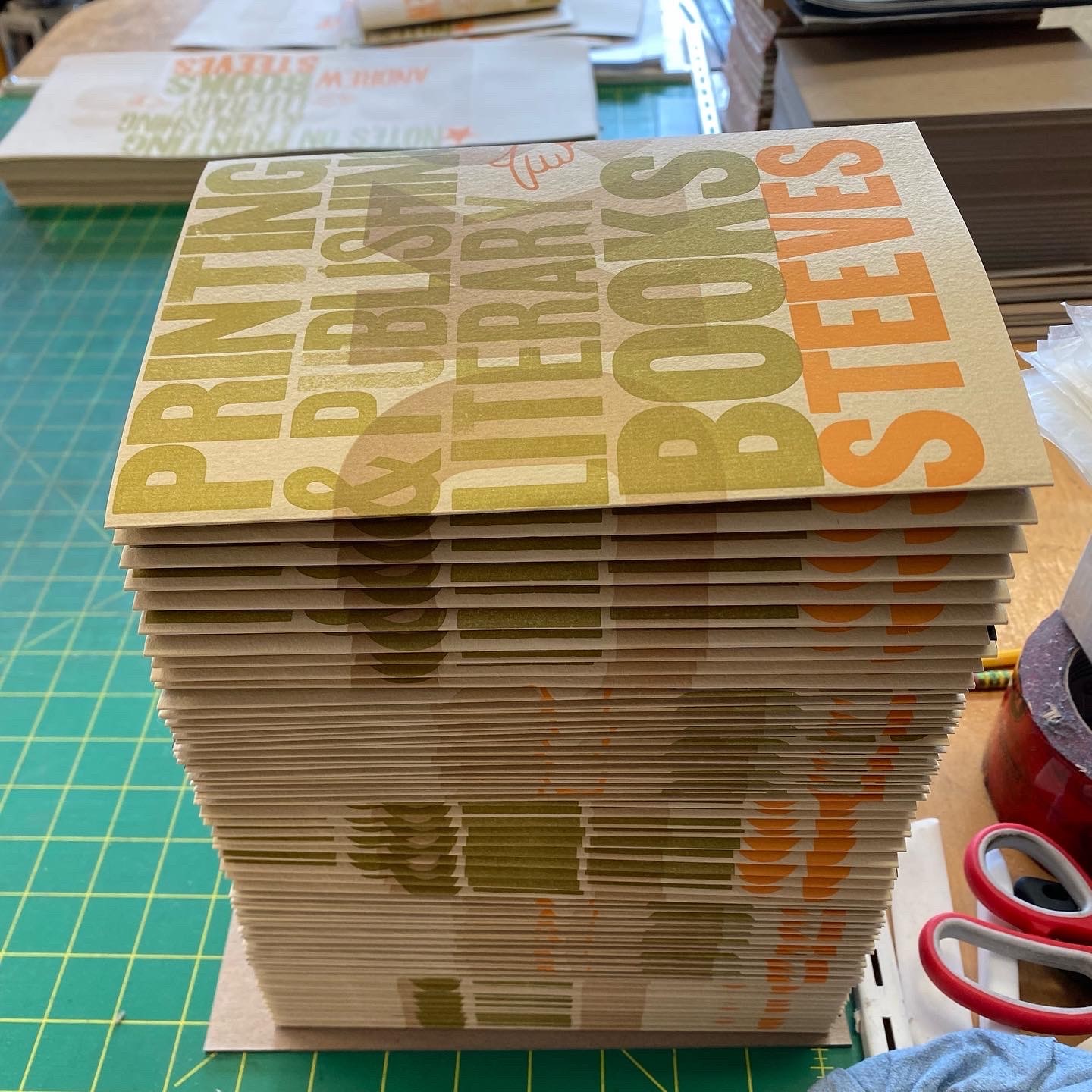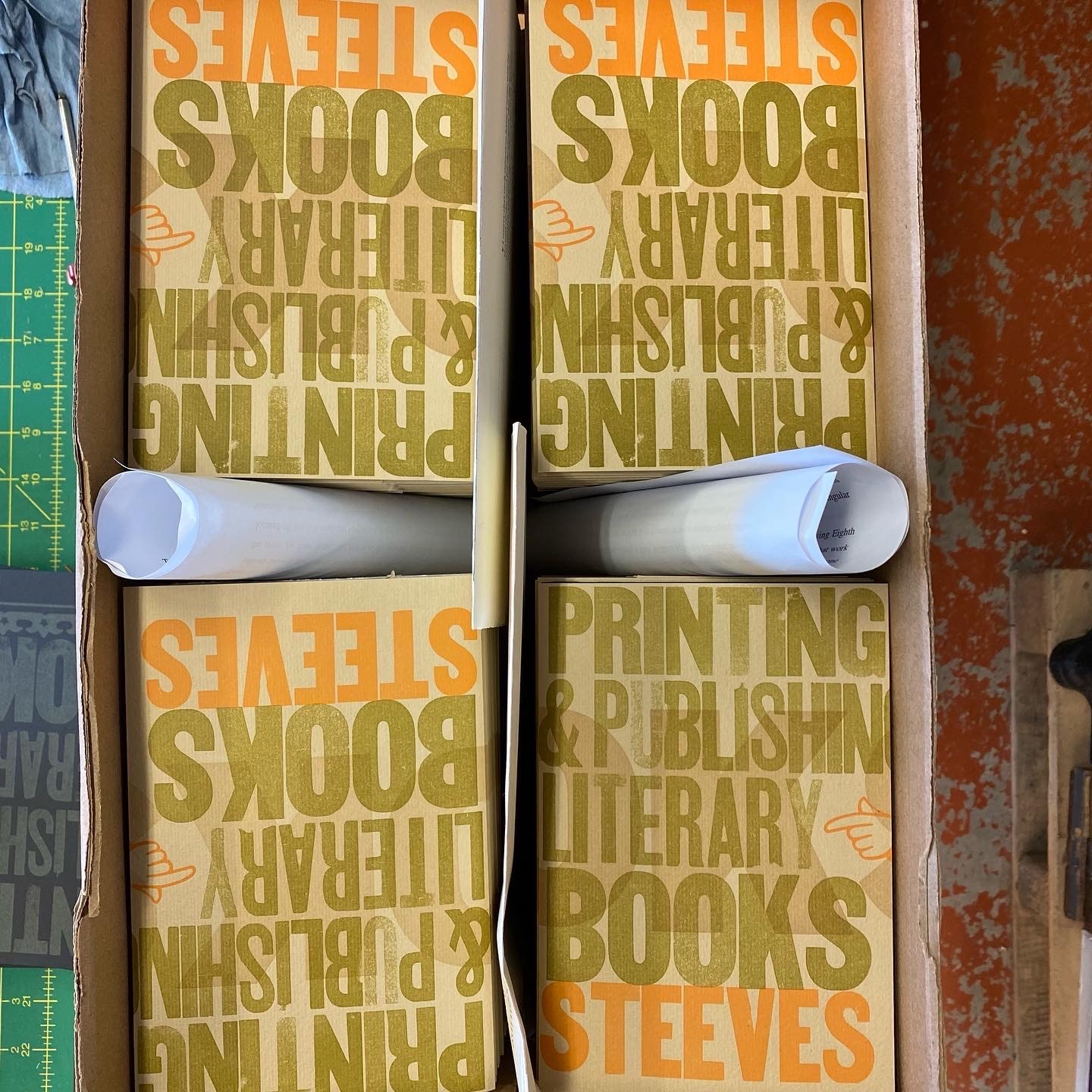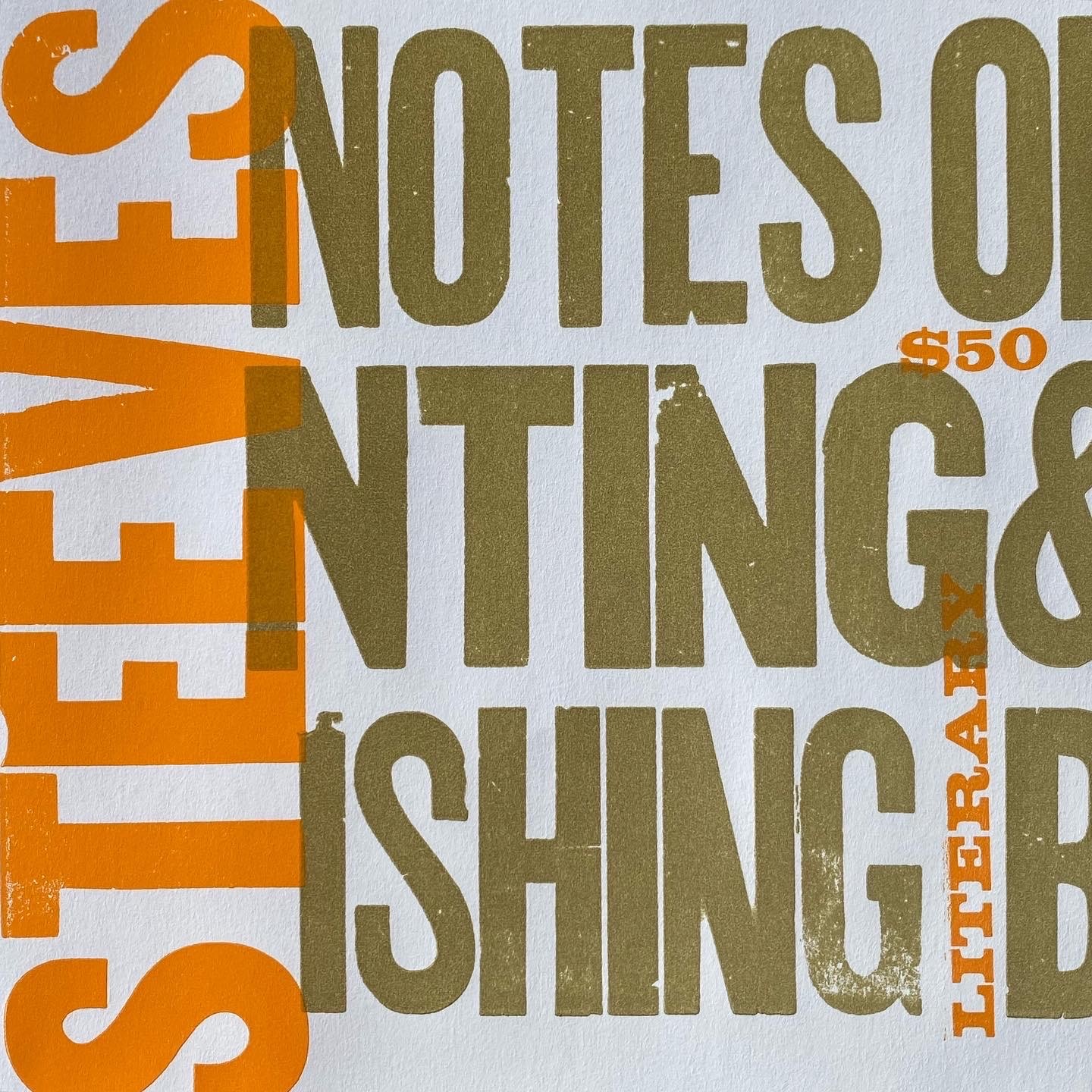 Notes on Printing and Publishing Literary Books
by Andrew Steeves, engraving by Wesley Bates

The essay Notes on Printing and Publishing Literary Books reflects on the robust tool that books are and the relationship between the literary publisher and the community, asking the deceivingly simple question "What is Literary Publishing for?" Drawing on a quarter century of experience editing, publishing and manufacturing literary books, Andrew Steeves asserts the extraordinary potential that well-made books hold for helping us to understand what is happening to and through our communities, and the pleasure that can be found in creating such books with thoughtfulness and love.

REGULAR EDITION: Typeset in Monotype Joanna. Printed in black and green on Zerkall mouldmade paper. Includes an original wood engraving by Wesley Bates. Bound with a three-hole stitch into a paper cover and enfolded in a tan Saint Armand Old Masters handmade paper jacket printed from wood type. Issued in a paper envelope printed from wood type. Edition of 170 numbered copies.

$50.00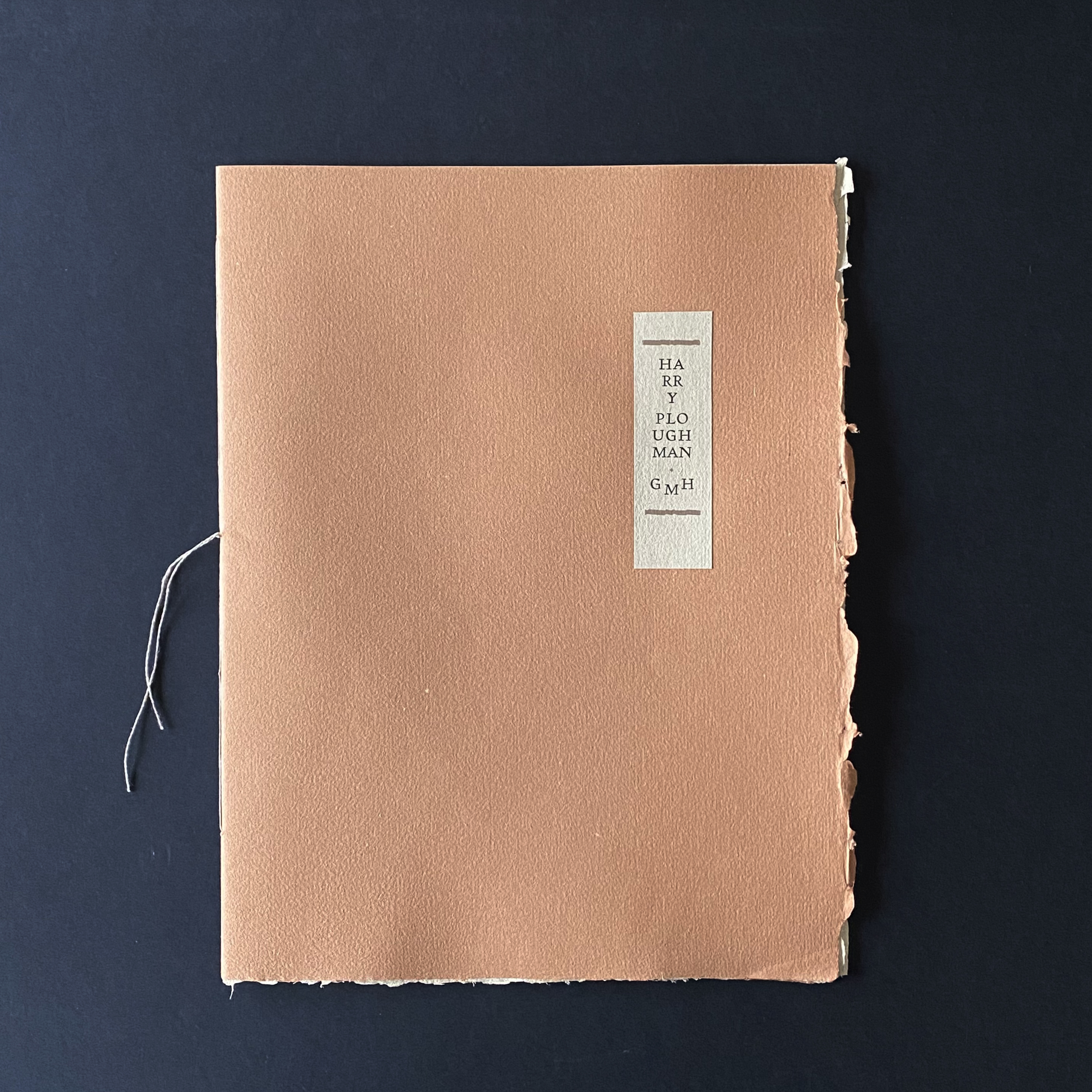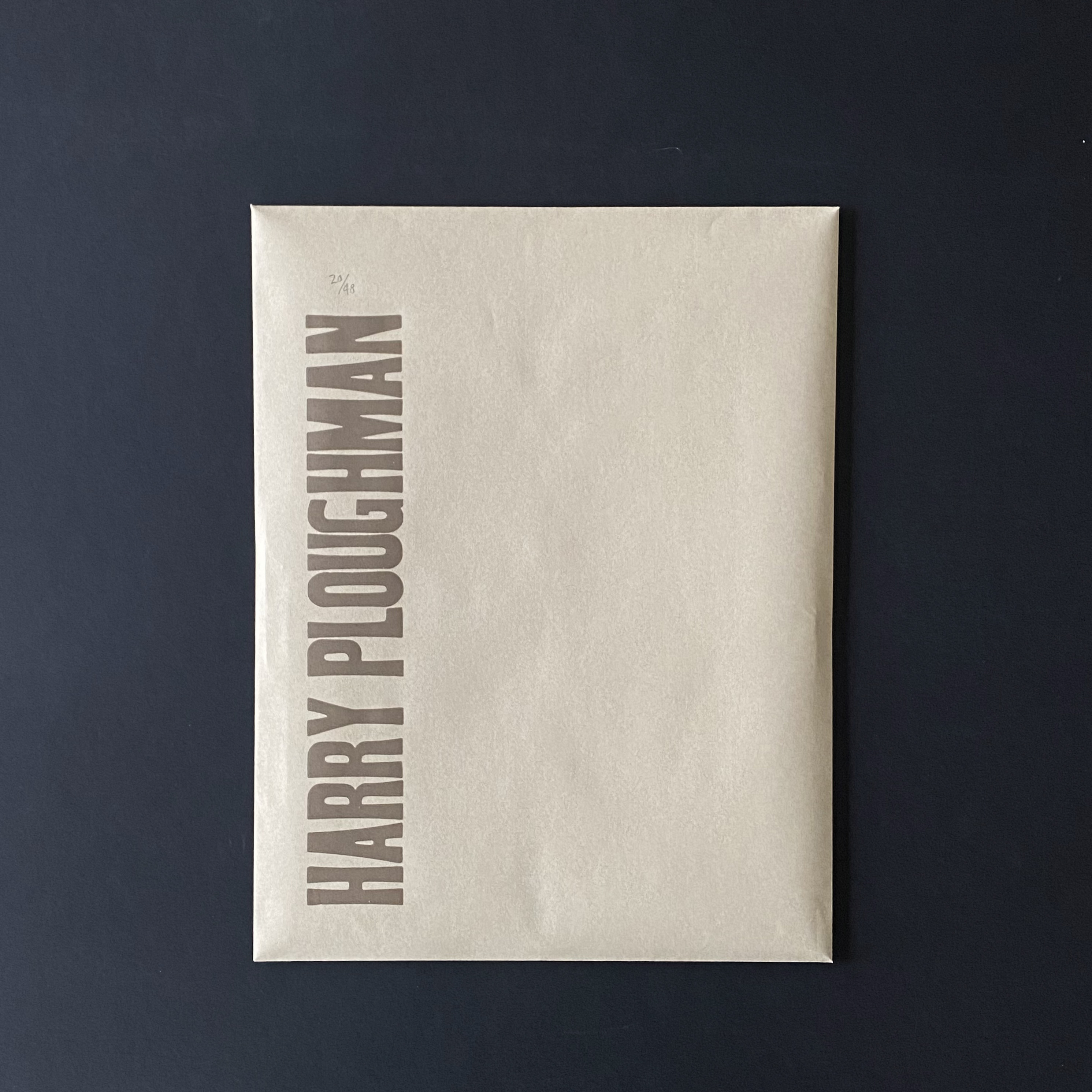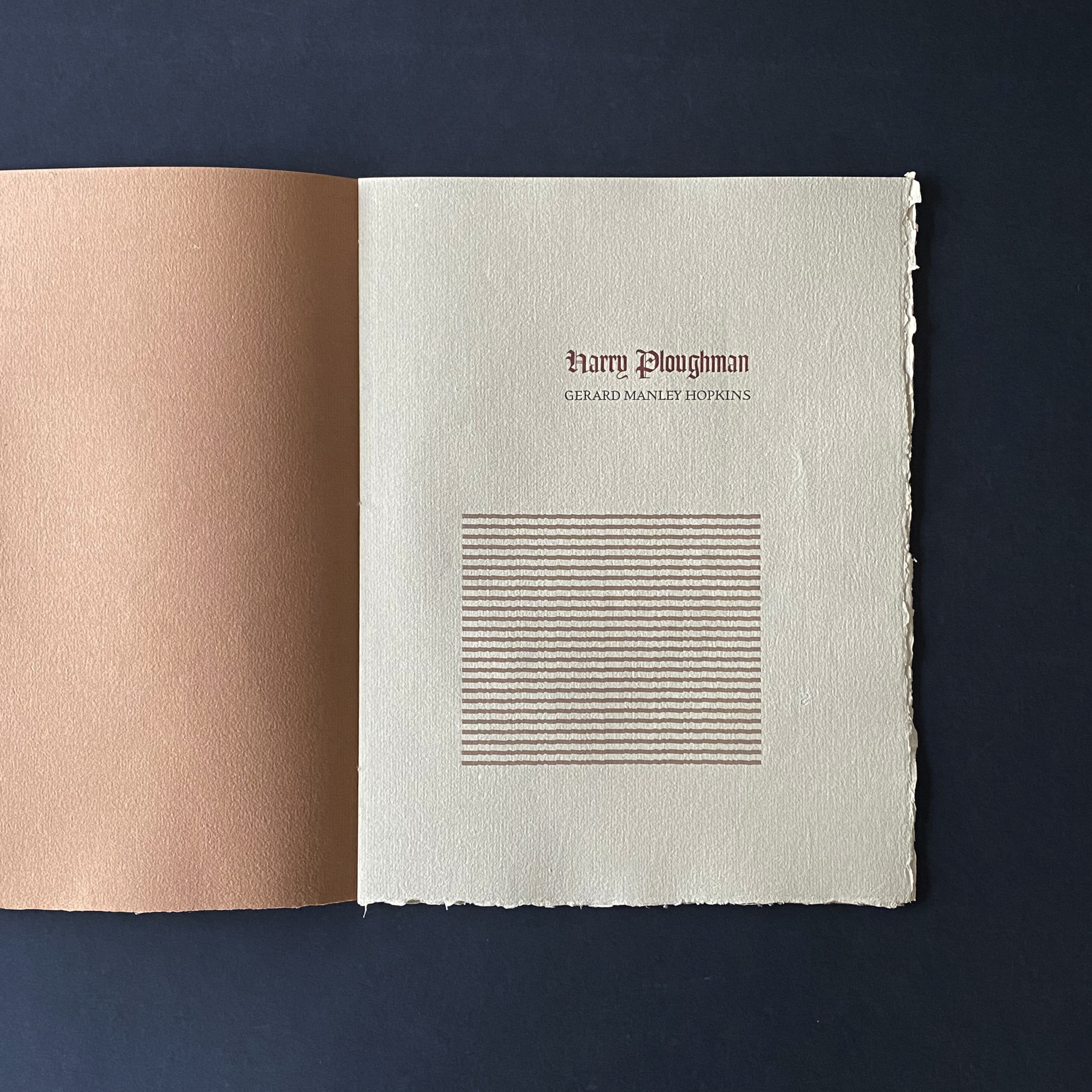 Harry Ploughman
by Gerald Manley Hopkins

The poet Gerard Manley Hopkins (1844–1889) sent this unruly, soundlush sonnet to his friend Robert Bridges in 1887, calling it 'a direct picture of a ploughman, without afterthought,' aiming to present the ploughman as 'a vivid figure before the mind's eye.' There is frankly little directness in this poem, yet its momentum and music capture something of the beauty and vitality of the ploughman in the midst of his labour. This chapbook was designed as a specimen of Jim Rimmer's rarely-seen Juliana Oldstyle typeface, one of the earliest proprietary typefaces he produced for his Pie Tree Press. Its rustic letterforms harmonize well with the extraordinary, disquieting diction and prosody of Hopkins's poem.

Specifications: Typeset in Jim Rimmer's Juliana Oldstyle type. Printed in black, brown and red on Saint Armand Old Master's handmade paper and folded to 9 × 12 inches, making 8 pages. Handsewn into a brown Old Masters wrapper with a paper lable printed in two colours. Comes in a paper envelope printed in brown. Limited edition of 48 numbered copies.

Out of Print

$40.00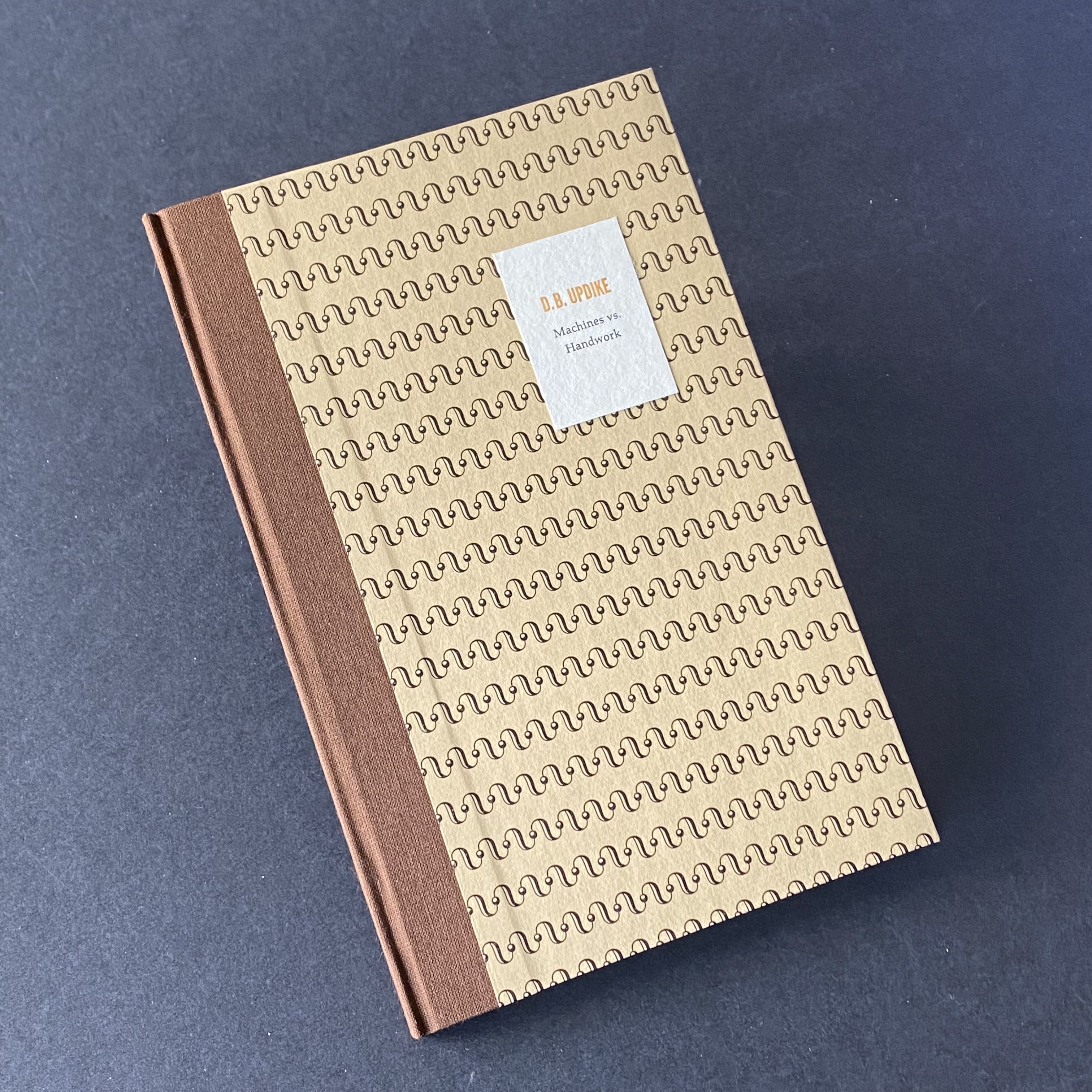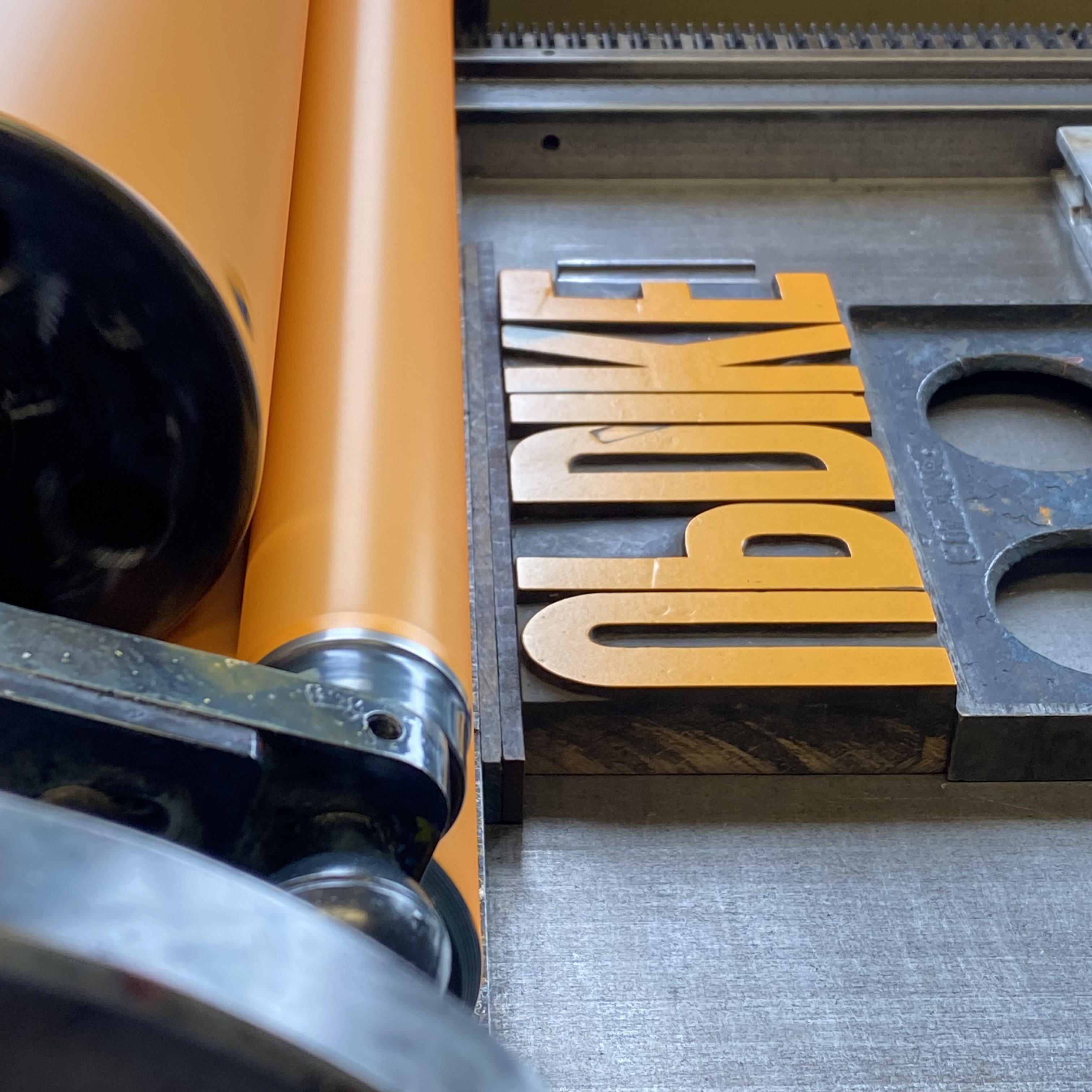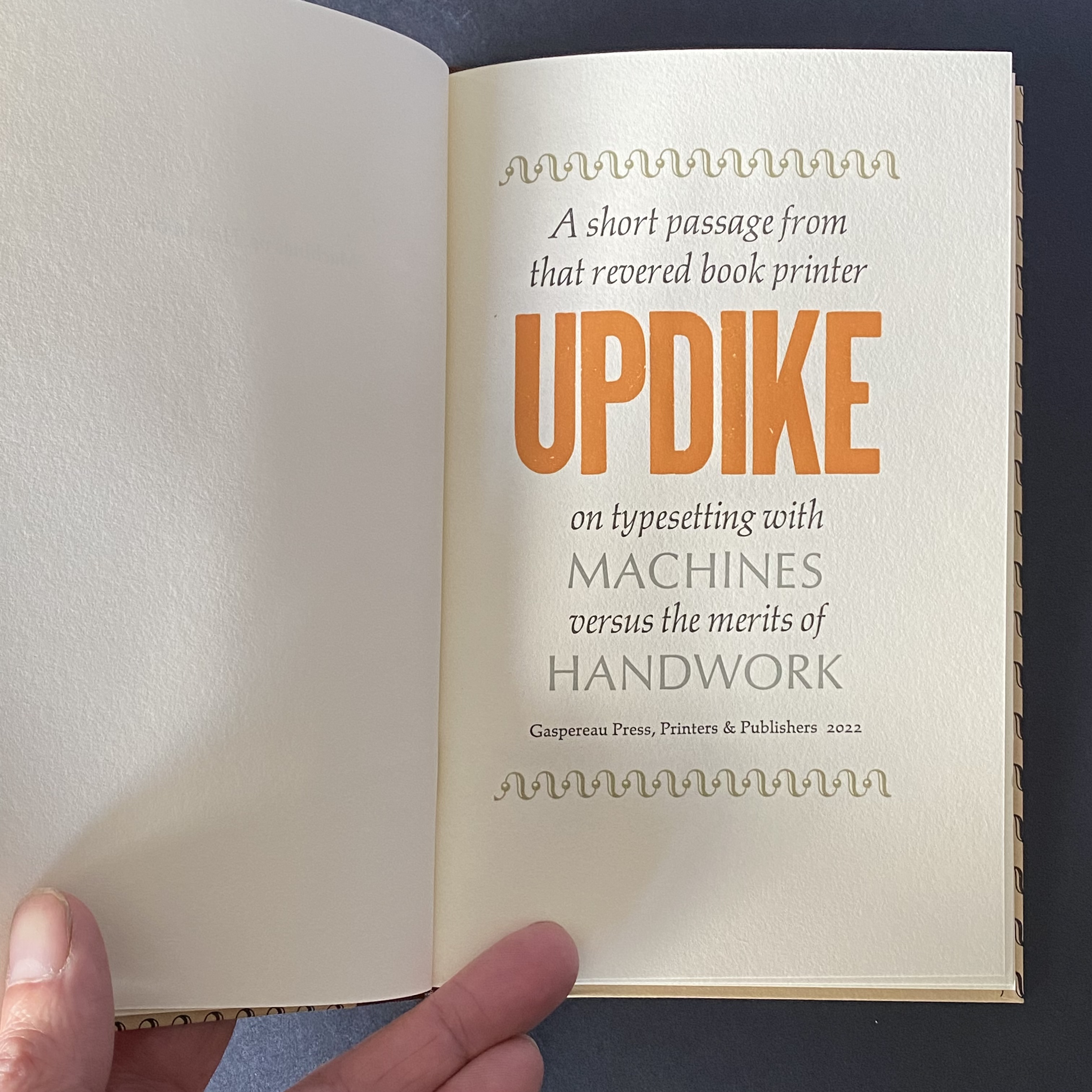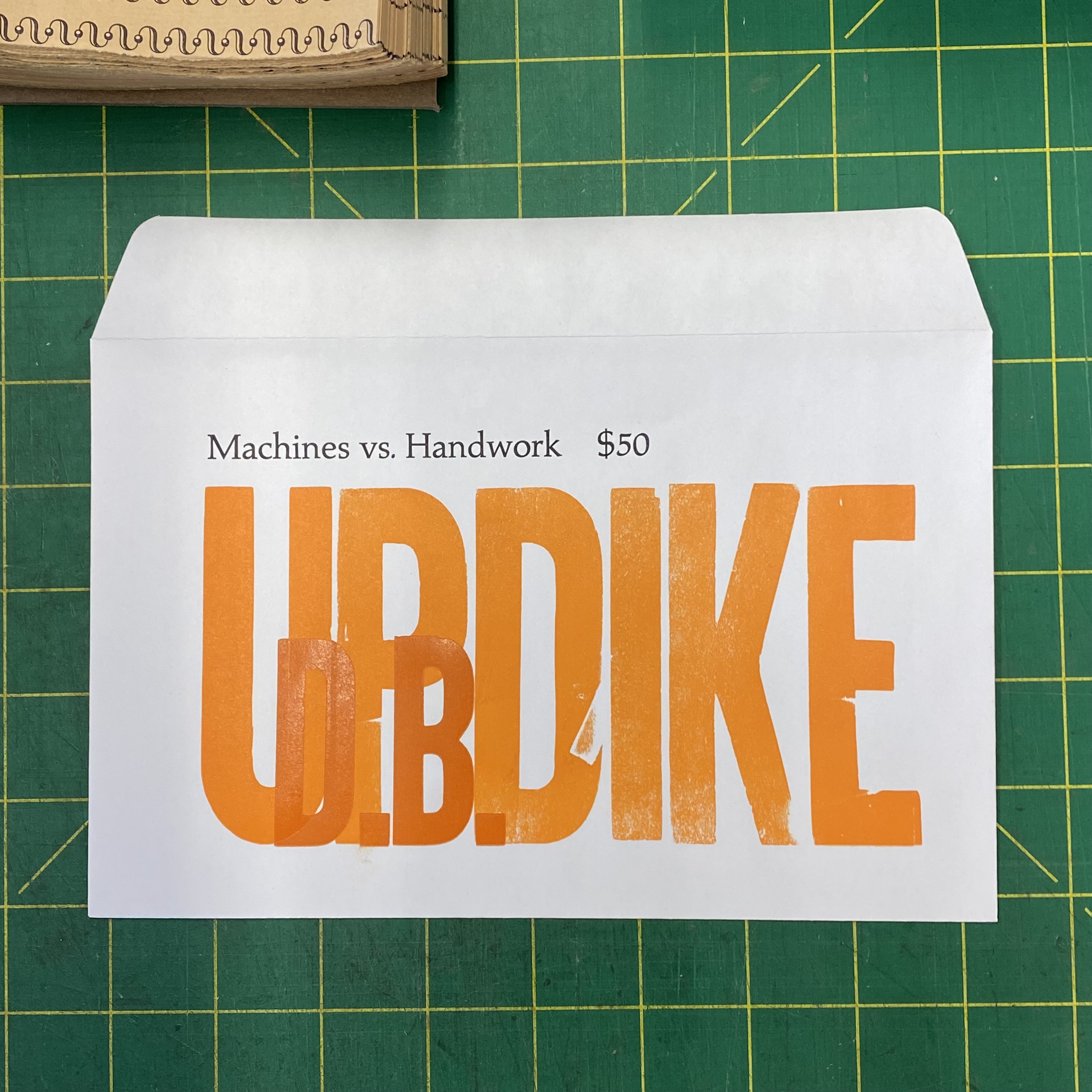 Machines vs. Handwork
by D.B. Updike

From the Merrymount Press in Boston, D. B. Updike (1860–1941) and his partner John Bianchi turned out well-designed books & ephemera. This short excerpt, reprinted from Updike's 1924 essay 'The Seven Champions of Typography' is an important meditation on the right use of machines written at a moment in history when the mechanization of typesetting was gaining steam. Includes a an afterword by Andrew Steeves.

Specifications: Typeset in Linotype Palatino and Caravan ornaments with foundry Palatino, Monotype Optima and plain gothic wood type. Printed in black, green, grey and orange on Stella Text machine made cotton paper. Folded and trimmed to 5 × 7.75 inches, making 20 pages. Handsewn and casebound in brown cloth spine with printed paper over boards. Limited edition of 120 numbered copies.

$50.00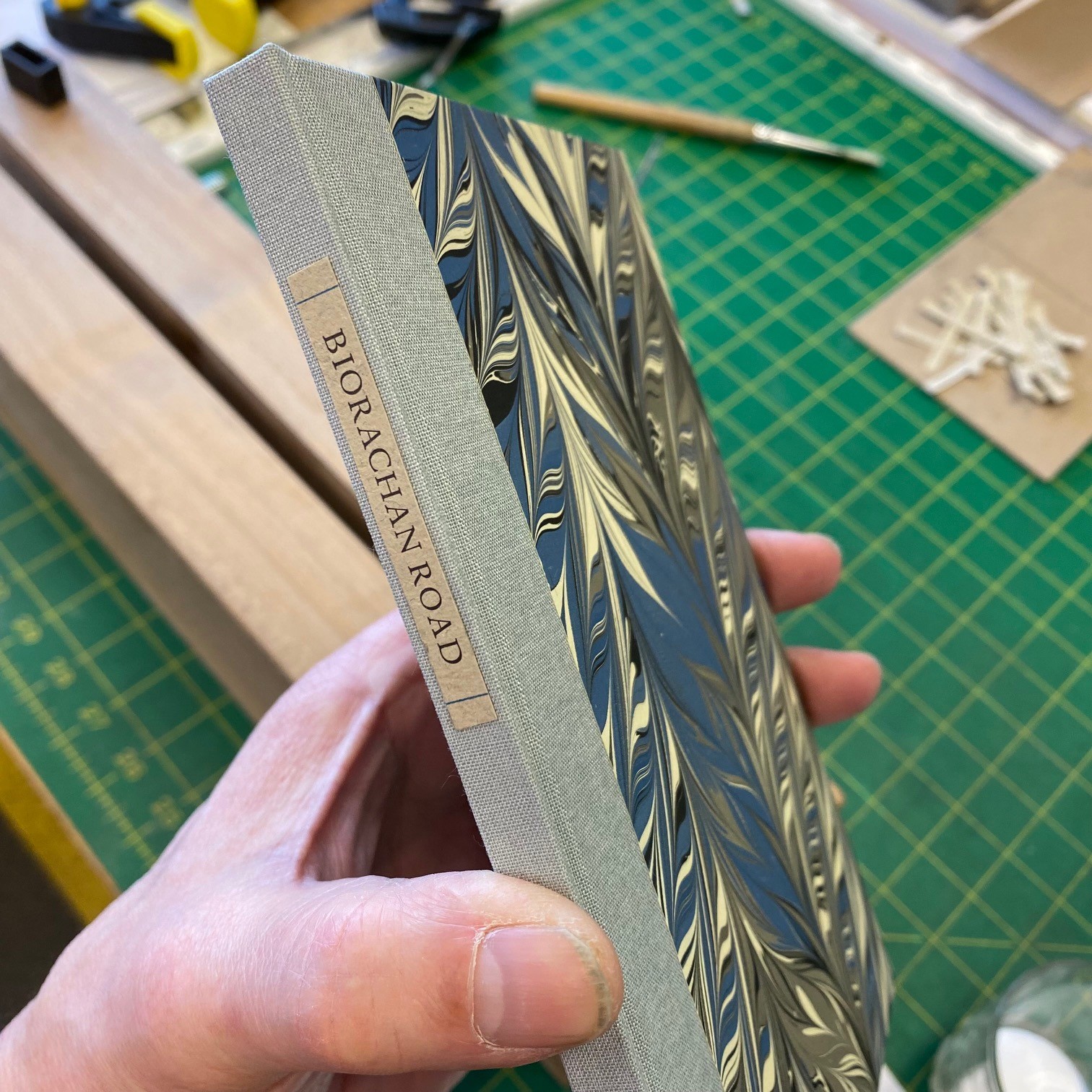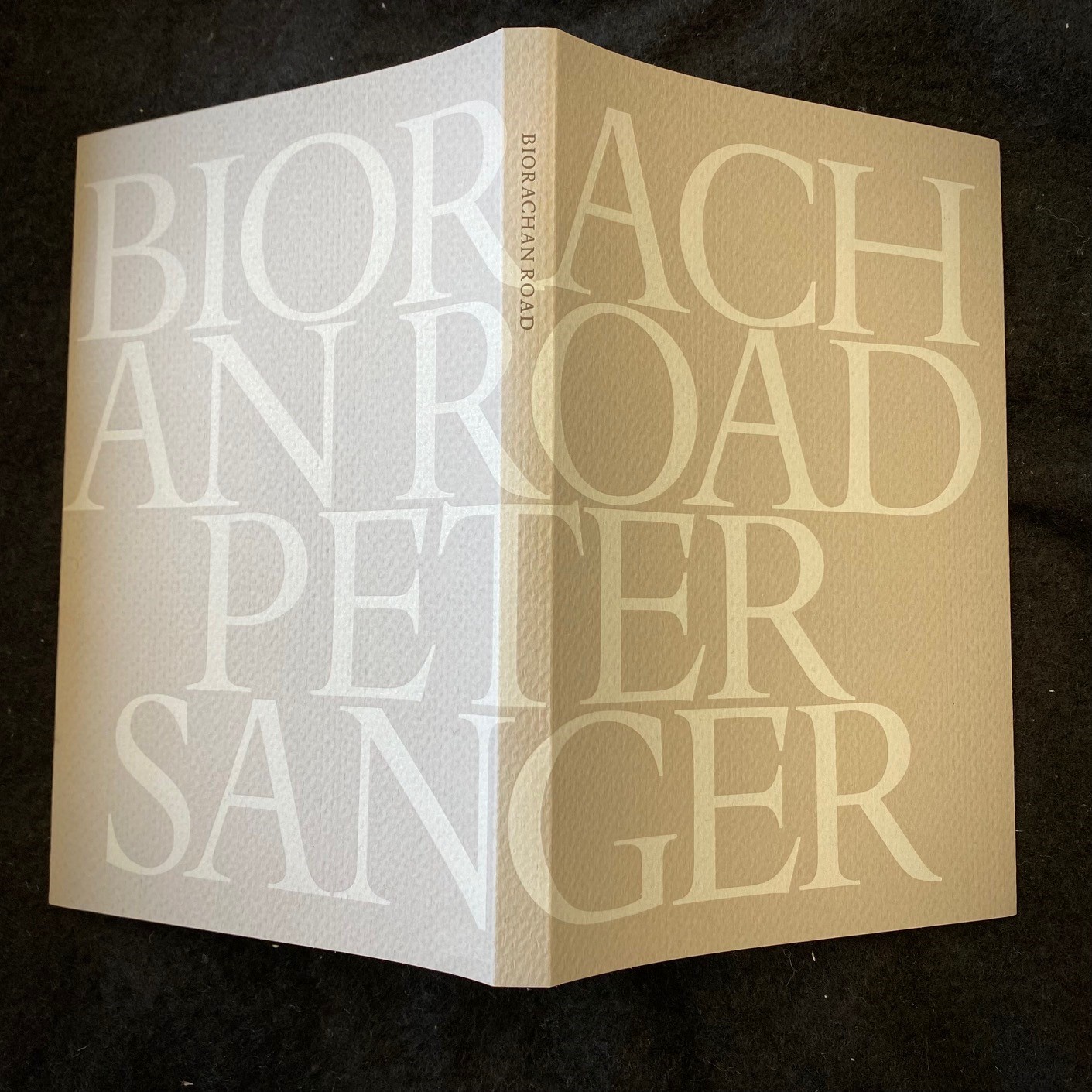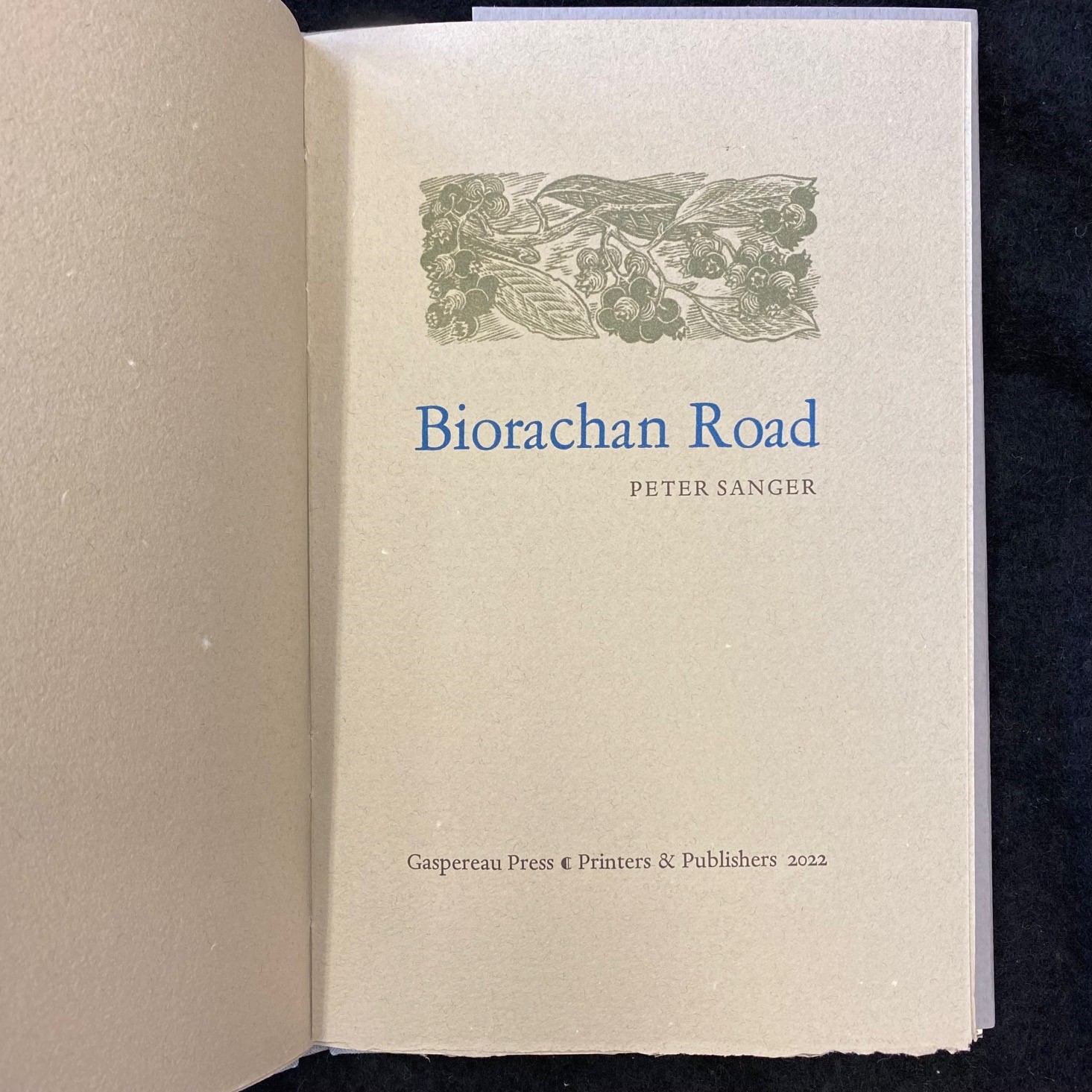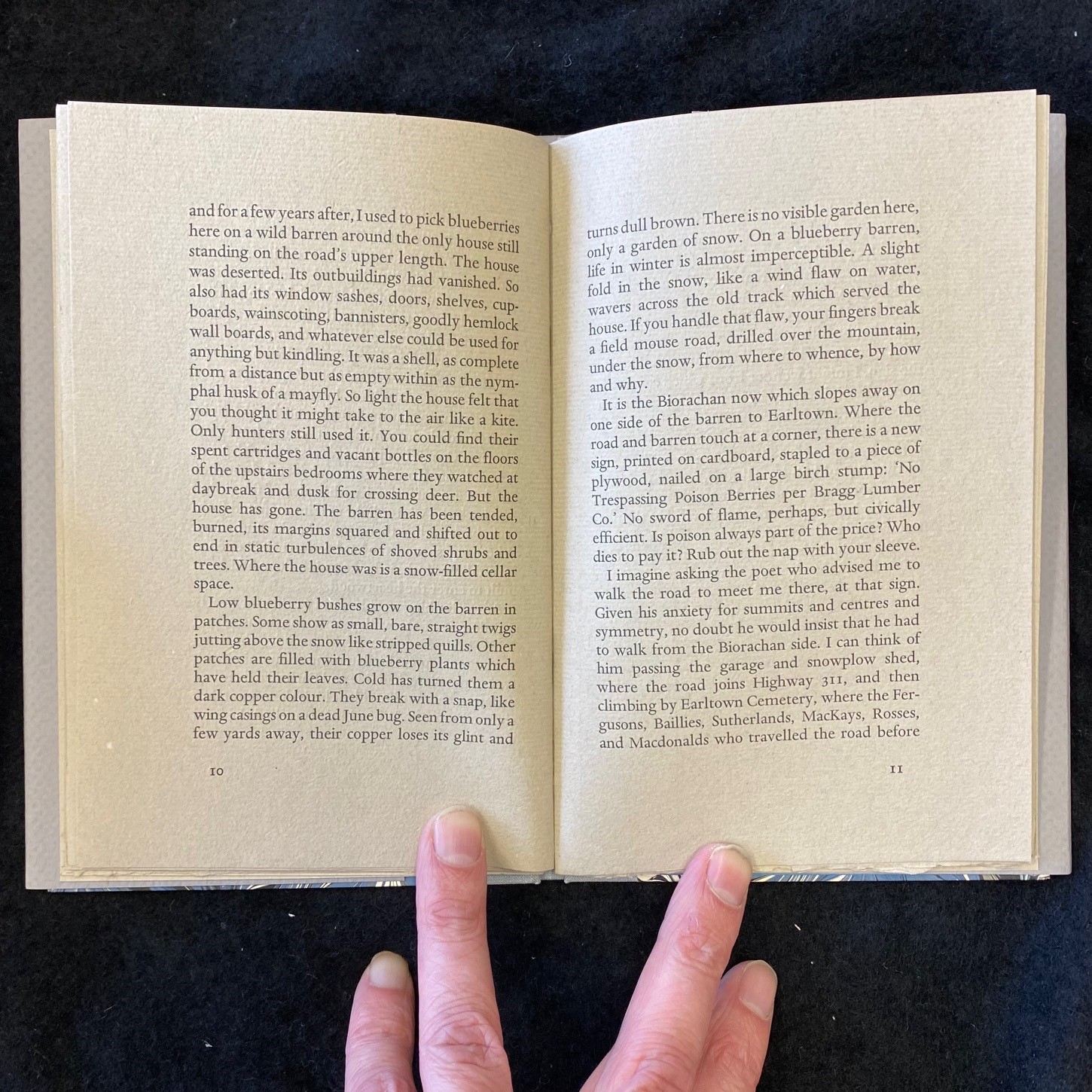 Biorachan Road
by Peter Sanger

In this essay, Peter Sanger considers the imaginative implications arising from the fact that a near-derelict rural road's name is spelled differently on each of its ends. This essay was originally published in Sangers trade collection Spar: Words in Place (Gaspereau, 2002) and has been reprinted in this special letterpress-printed limited edition to mark its 20th anniversary.

Production Details: Typeset in Monotype Dante and printed on Saint Armand Old Masters handmade paper making 24 pages + made endpapers. Trim size is 5.25 × 8 inches. Includes a wood engraving by Wesley Bates. Handsewn. Quarterbound in slate cloth with Jemma Lewis's marbled paper over boards. Printed paper label on the spine. Issued in a grey machine-made paper jacket. Limited edition of 30 numbered copies.

Out of Print

$150.00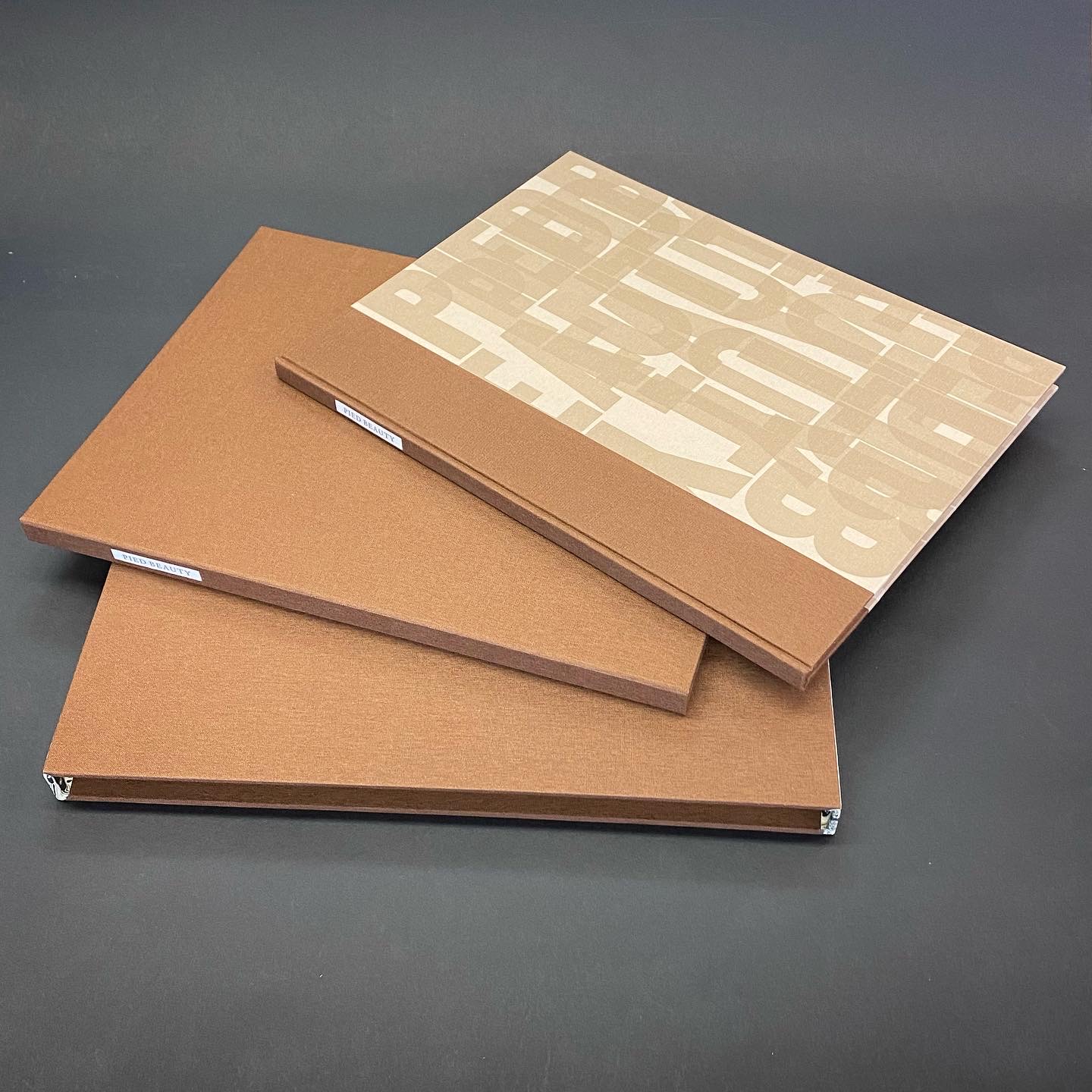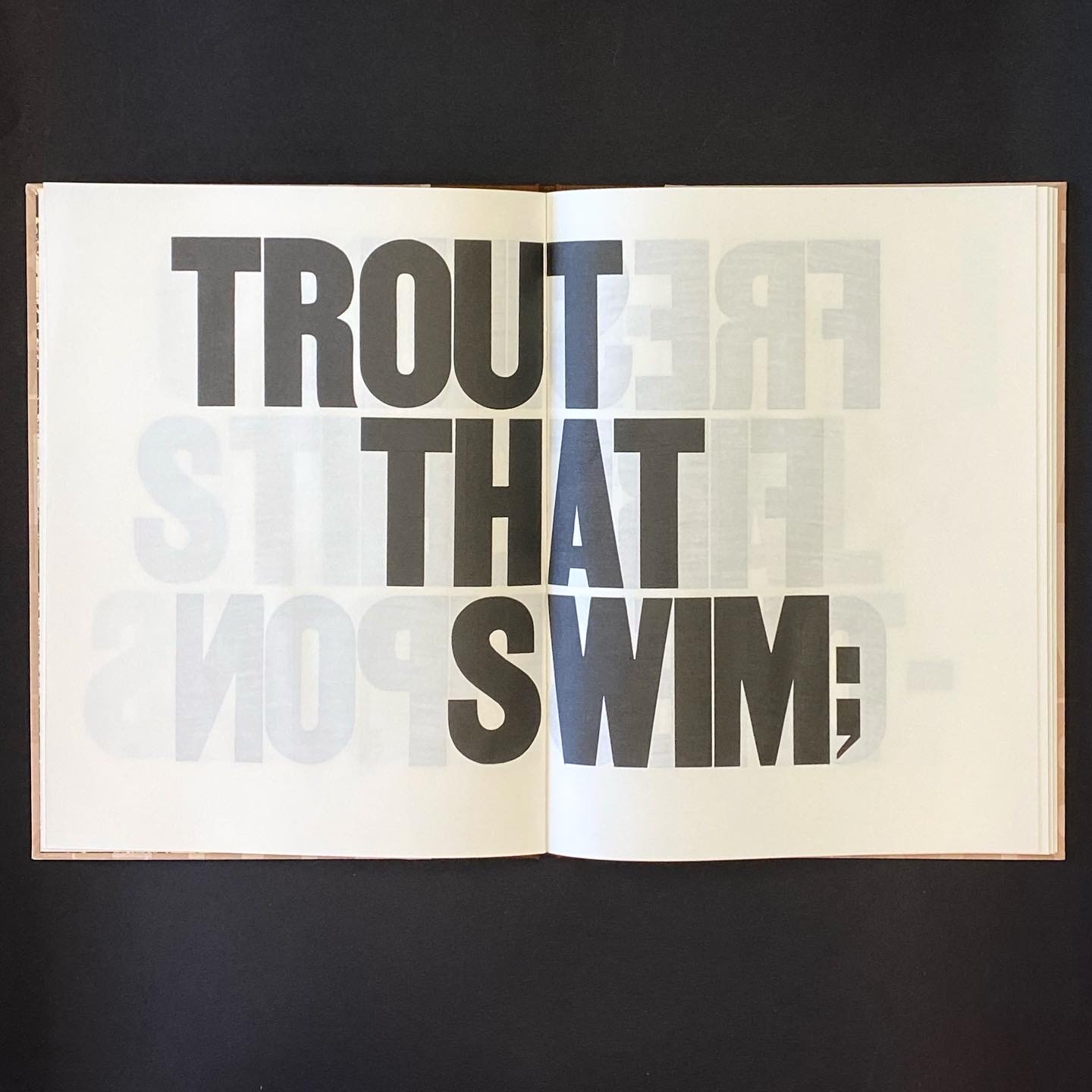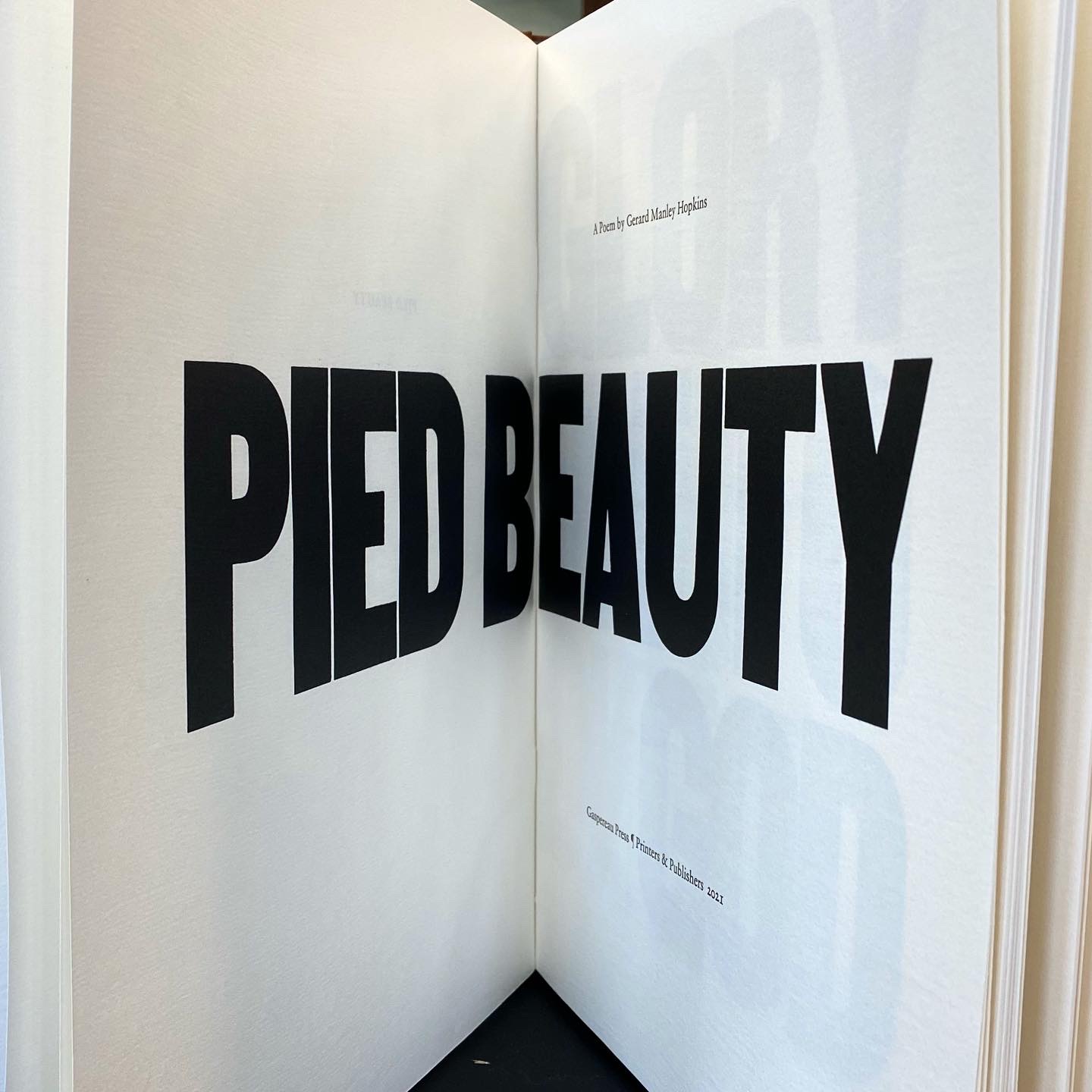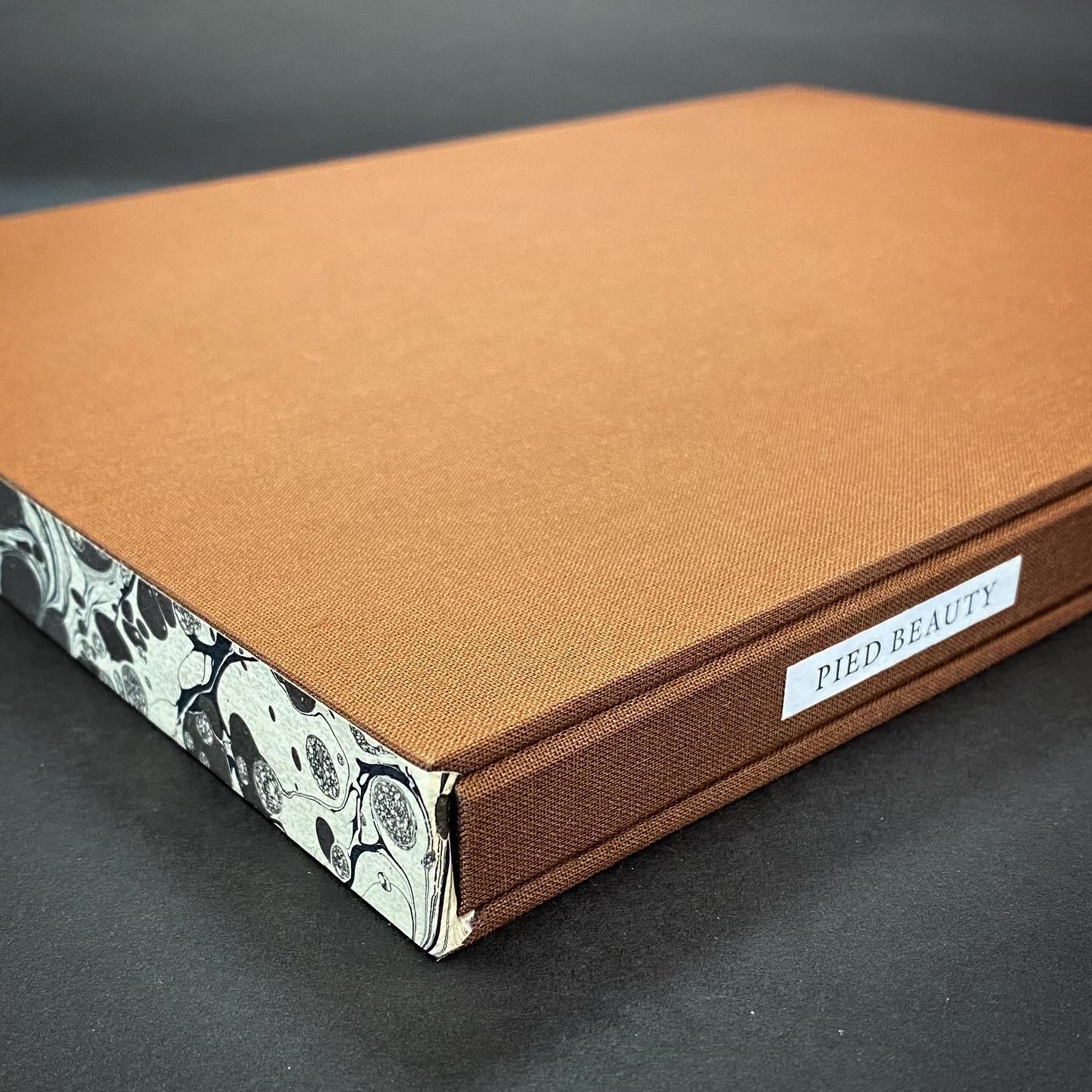 Pied Beauty
by Gerald Manley Hopkins

This book sets the text of Gerard Manley Hopkins's sonnet "Pied Beauty" in three-inch tall gothic wood type and presents it phrase by phrase over 48 pages. The design aims to echo the exuberance, the muscle and momentum, of the poem's language and prosody, capturing the tension between Hopkins's delight with the temporal world's myriad "dappled things" and his more orthodox belief in the singular steadfastness of The Divine.

Production details: Production details: Typeset in 18-line plain gothic wood type and Linotype Sabon. Printed in black on Zerkall mouldmade paper. Twelve sheets printed 'two-up', folded, gathered into 16 page signatures and trimmed to 22.5 × 30 cms making 48 pages. Common made endpapers are added to the front and back of the book block using marbled paper by Jemma Lewis. Handsewn. Quarterbound in brown cloth with tan-coloured Zerkall Ingres mouldmade paper over boards; the paper is printed with wood type using transparent white ink. Printed paper label on the spine. Issued in a brown cloth-covered wrapper and slipcase. Edition of 27 numbered copies.

Out of Print

$600.00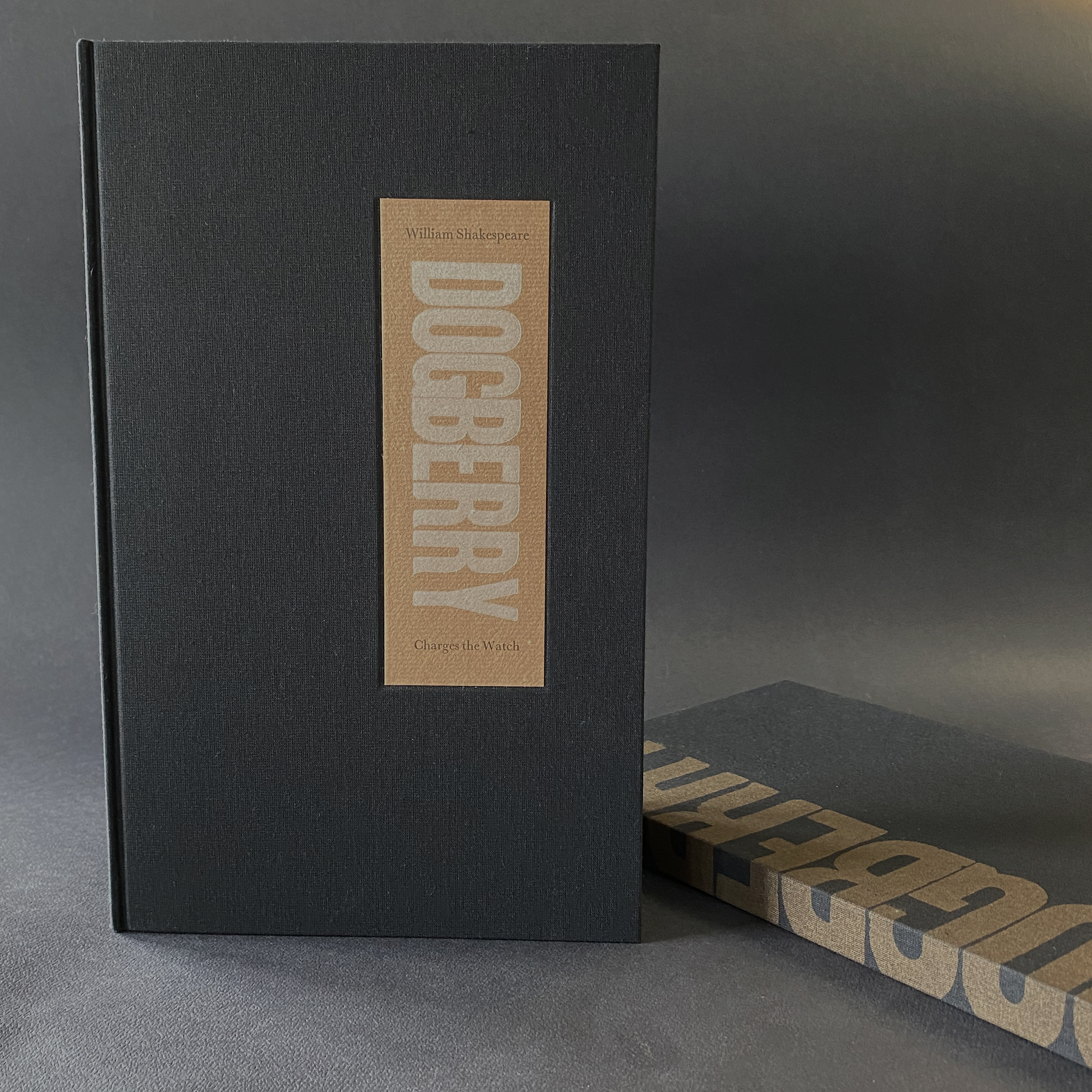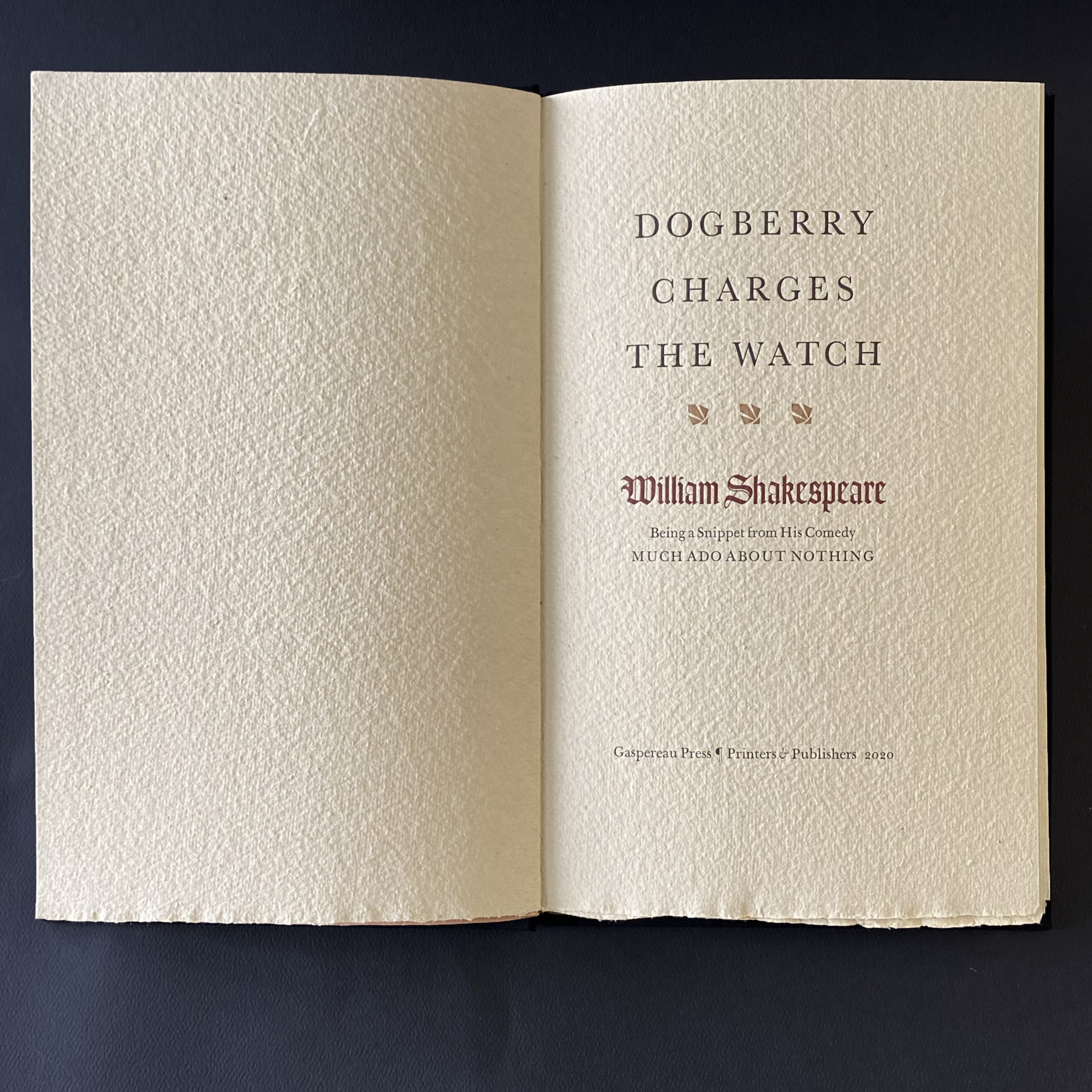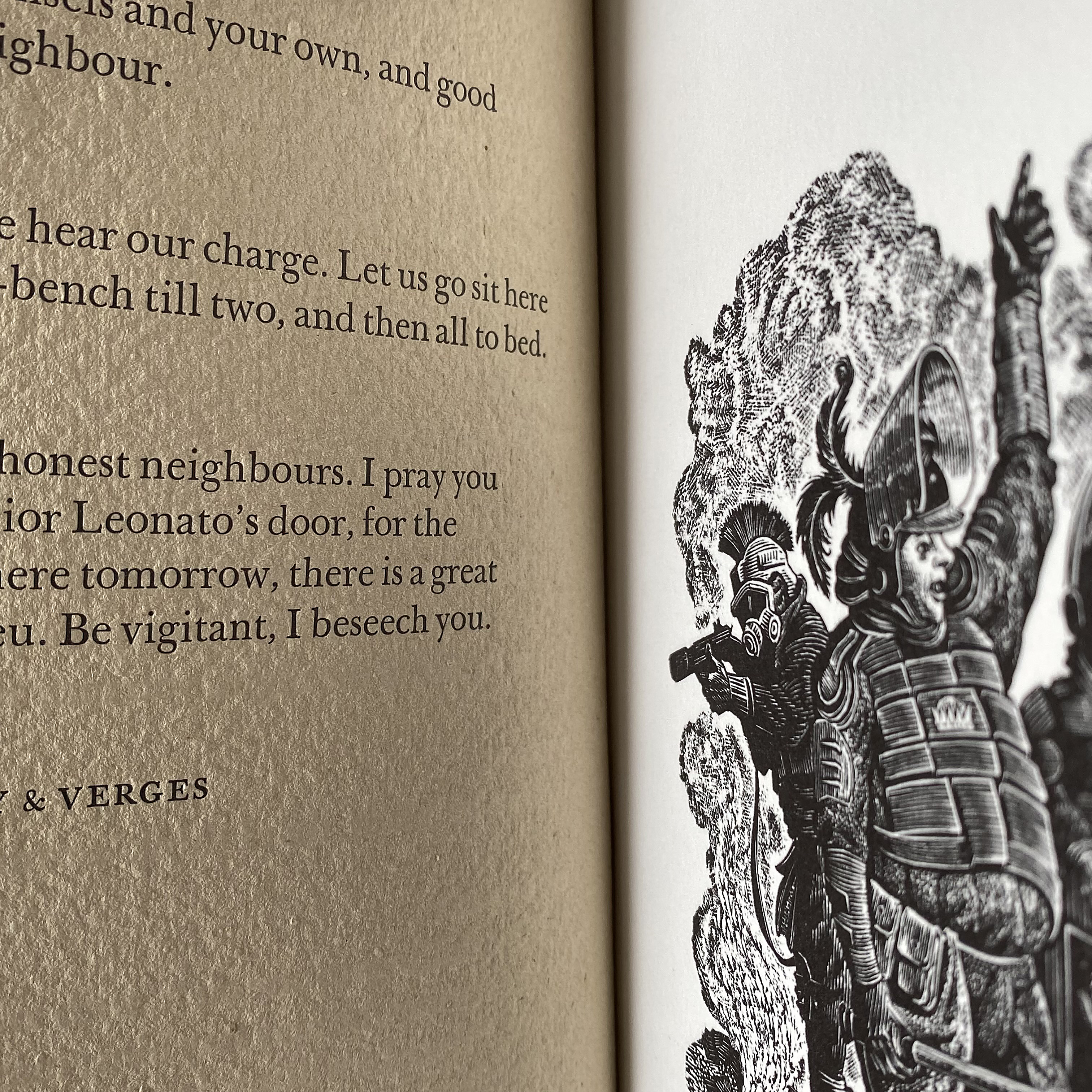 Dogberry Charges the Watch, Being A Snippet from His Comedy 'Much Ado About Nothing'
by William Shakespeare, with commentary by Andrew Steeves

In the wake of recent high-profile incidents exposing anew the age-old crisis in policing, the bumbling, verbose, self-important character of Constable Dog-berry from Shakespeare's play Much Ado About Nothing takes on importance beyond the ordered world of Elizabethan comedy. Off stage, out here in our communities, the incompetence of Dogberry and his watchmen now does much damage. This excerpt from the play and short commentary remind us of the importance of expecting effort and equity from our civil authorities.

Production details: Includes an original wood engraving by Wesley Bates. Typeset in Linotype Baskerville. Printed in black and two colours on vintage Barcham Green handmade paper, folded to roughly 7 × 11 inches making 24 quarto pages with Saint Armand Old Masters handmade paper endpapers. Limited edition of 50 copies casebound in black cloth over boards with a cloth-covered slipcase. Issued in a kraft wrapping paper decorated with wood type printed in two colours.

$200.00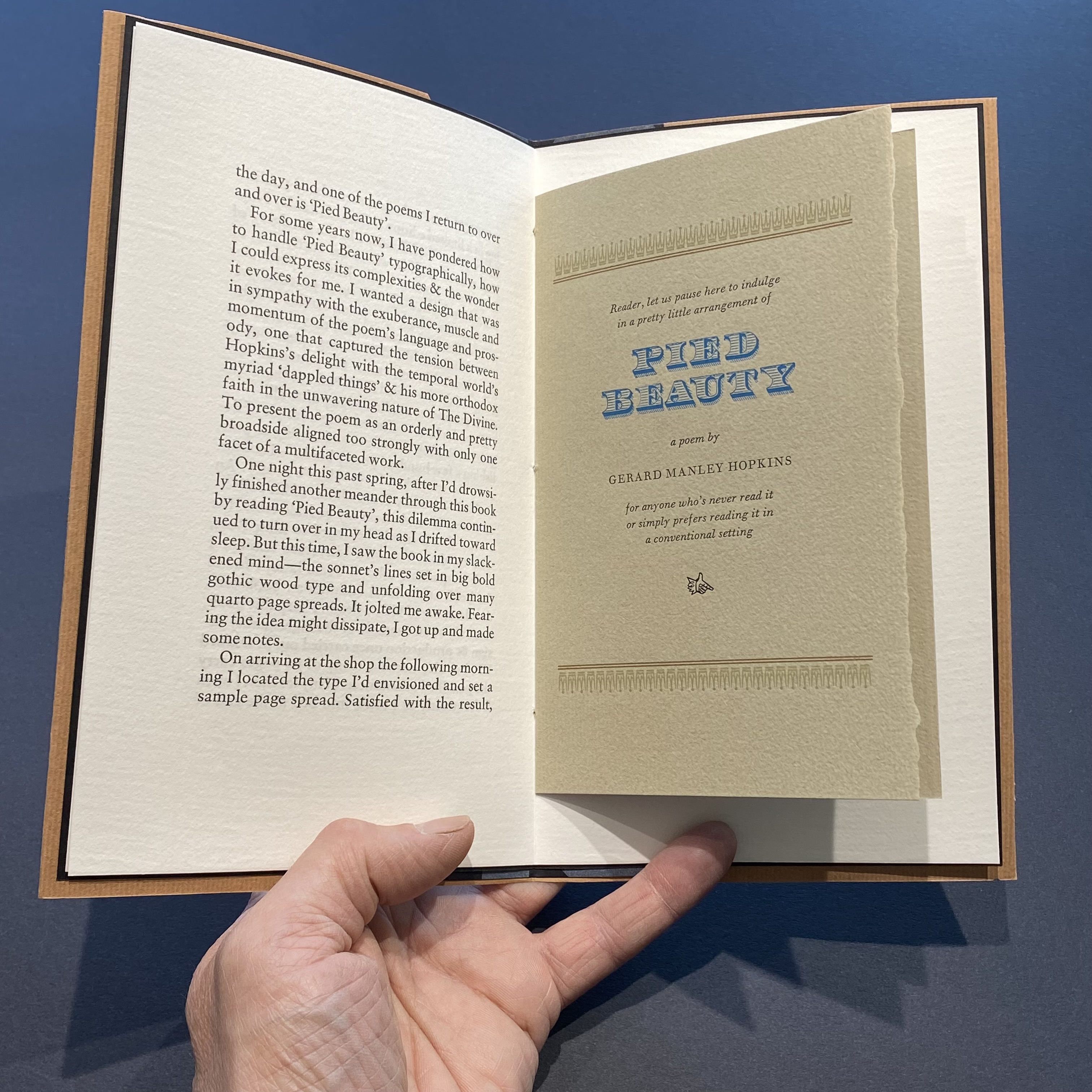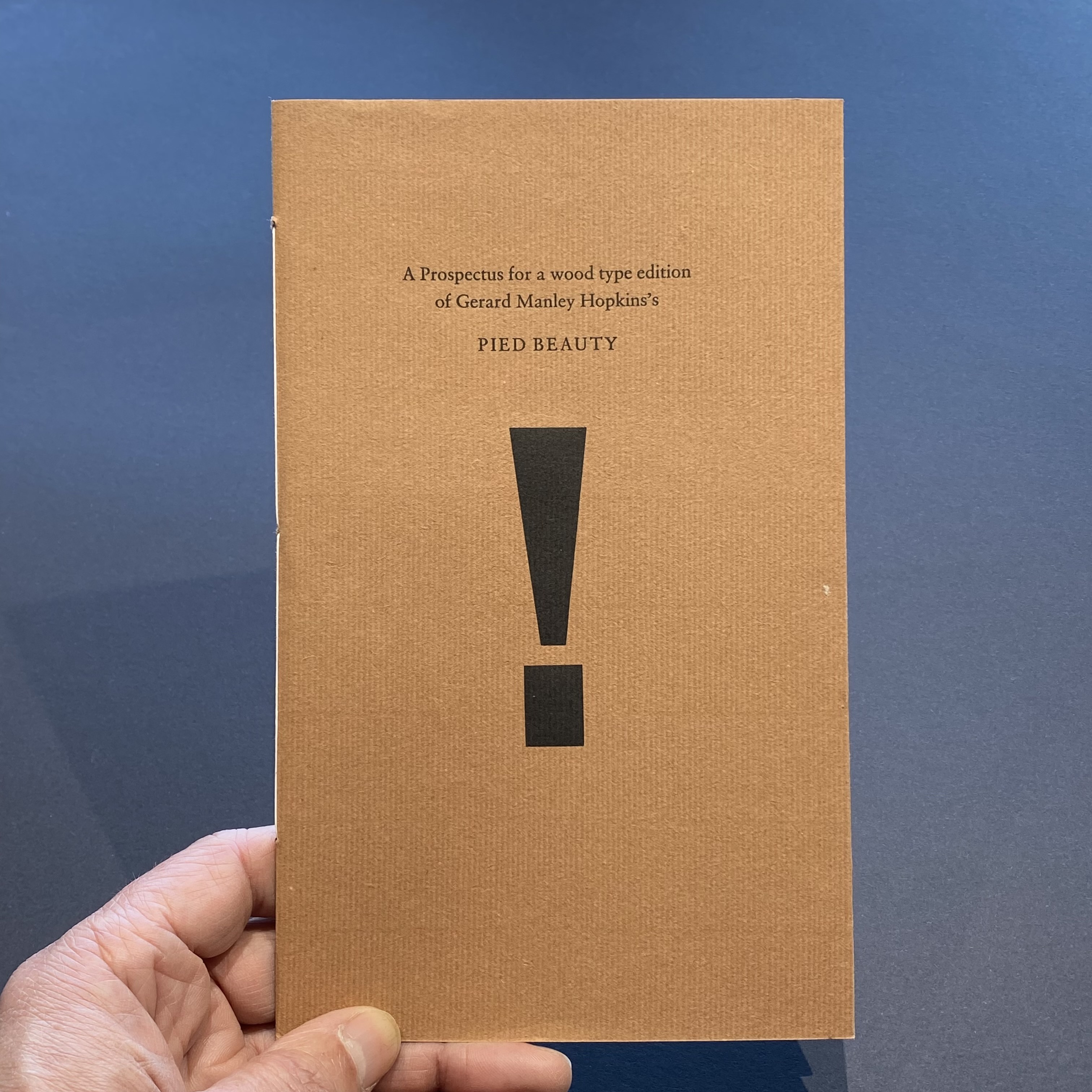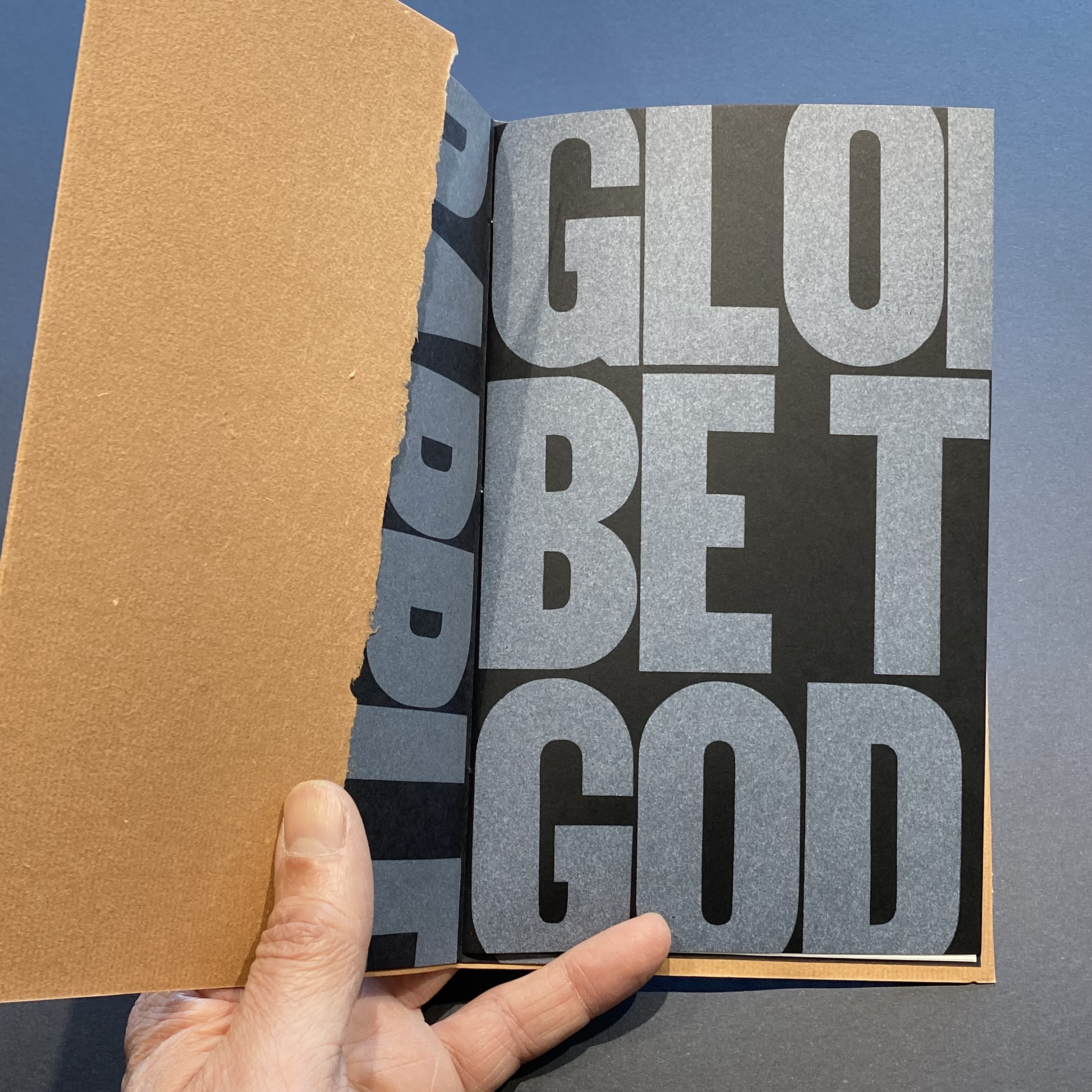 A Prospectus for a Wood Type Edition of Gerard Manley Hopkins's 'Pied Beauty'
by Andrew Steeves

This short essay describes the inspiration for making a limited-edition of Gerard Manley Hopkins's celebrated poem 'Pied Beauty' that is set in 18-line plain gothic wood type (to be released in December 2021). The prospectus includes a traditional 'pretty little arrangement' of the poem by way of contrast to the forthcoming book, as well as production notes and specifications.

Production details: Typeset in Linotype Sabon, Linotype Walbaum and wood type. The main section is printed in black on Zerkall mouldmade paper, folded and trimmed to 5.25 × 8.5 inches making eight pages. A slightly smaller folio insert is sewn into the centre, printed in black, green, brown and blue on taupe-coloured Saint Armand Old Masters handmade paper. Edition of 130 copies bound in a black paper cover with black printed endpapers and enfolded in a brown Saint Armand Old Masters handmade paper wrapper printed in black. The envelope is printed in black, brown and blue.

$25.00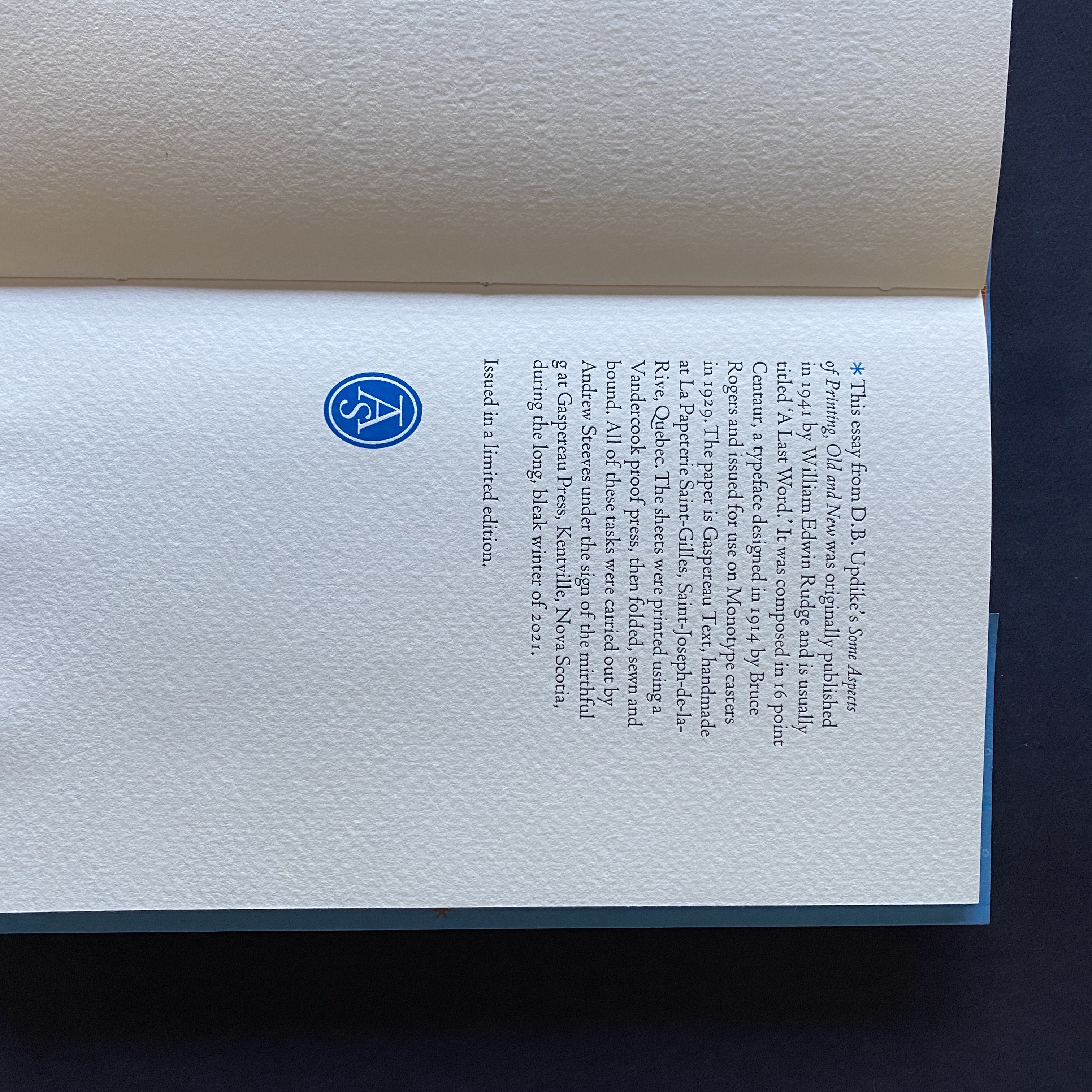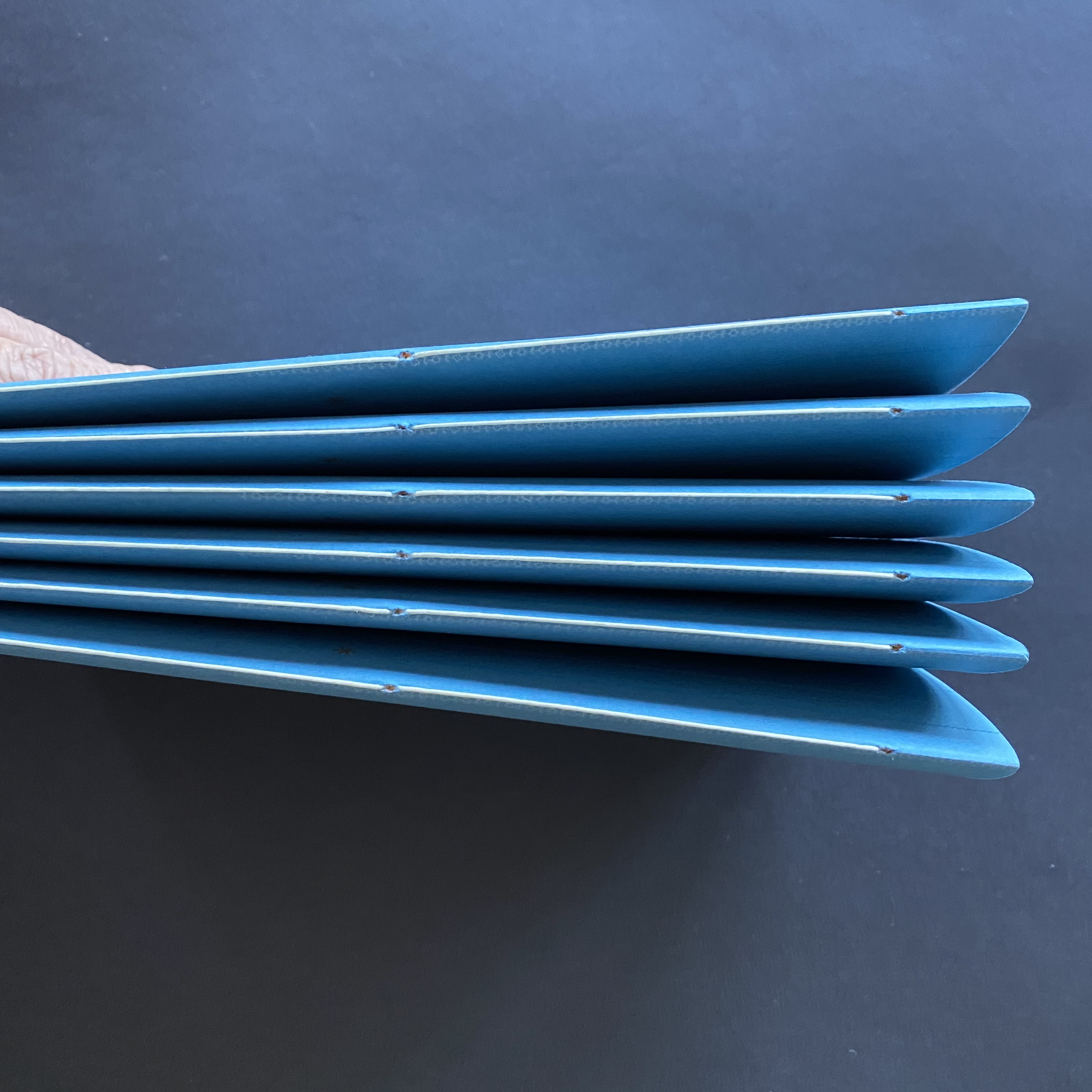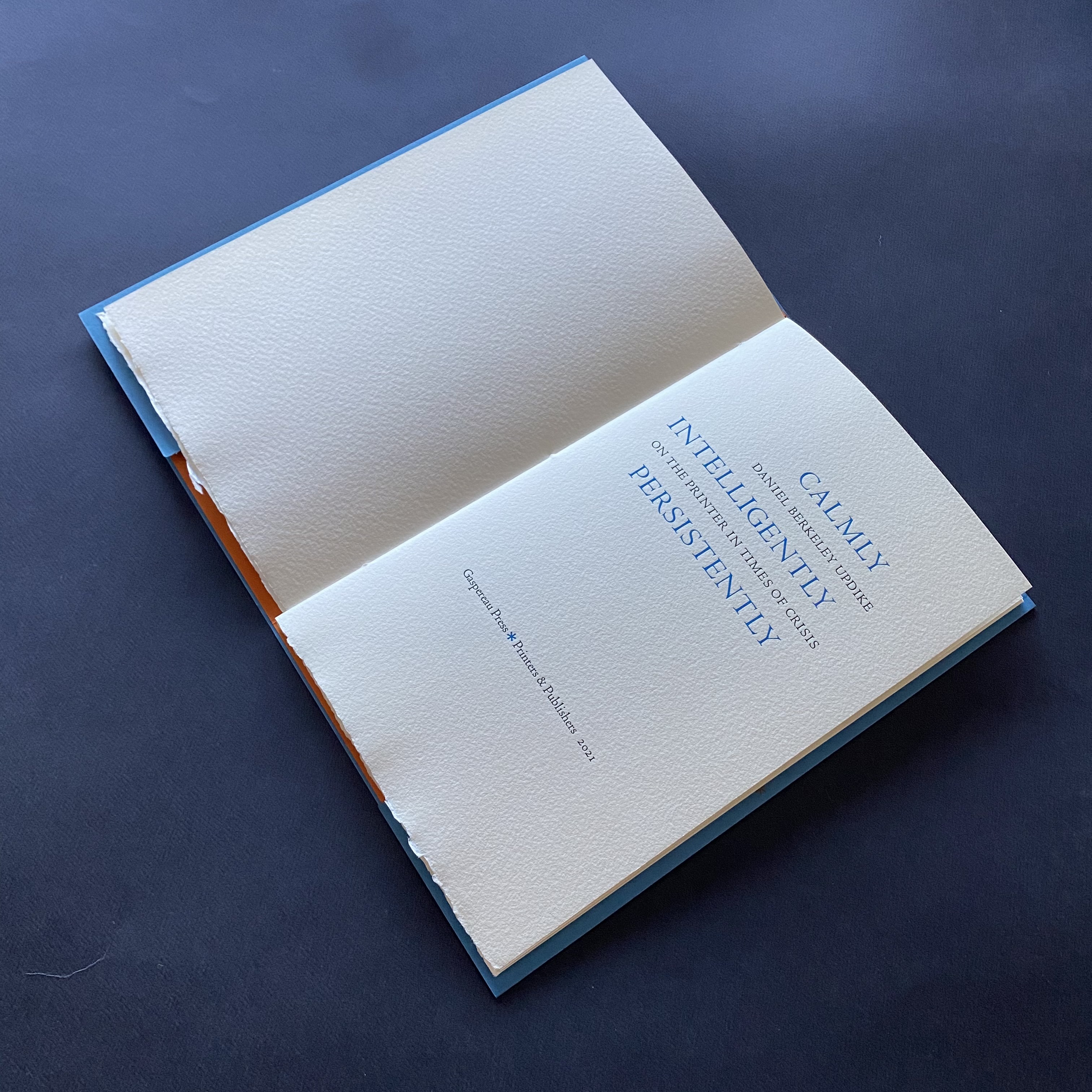 Calmly, Intelligently, Persistently: Daniel Berkeley Updike on the Press in a Time of Crisis
by D.B. Updike

Daniel Berkeley Updike, 1860–1941, founder of Boston's famed Merrymount Press, a specialized commercial printshop where common work was done uncommonly well. He wrote this essay at a time when destruction and disorder dominated the news and civilization seemed to be falling apart. Yet Updike's tone is one of stubborn resolve and optimism. Originally published in 1941 under the title "A Last Word."

Specifications: Typeset in 16 point Monotype Centaur and printed letterpress in black and blue on Saint-Gilles Gaspereau Text handmade paper. Folded and trimmed to 6.25 × 9.75 inches, making 16 pages. Bound in orange card stock with a blue Zerkell Ingres mouldmade paper wrapper printed in black, white, blue and orange. Limited edition of 100 numbered copies.

$40.00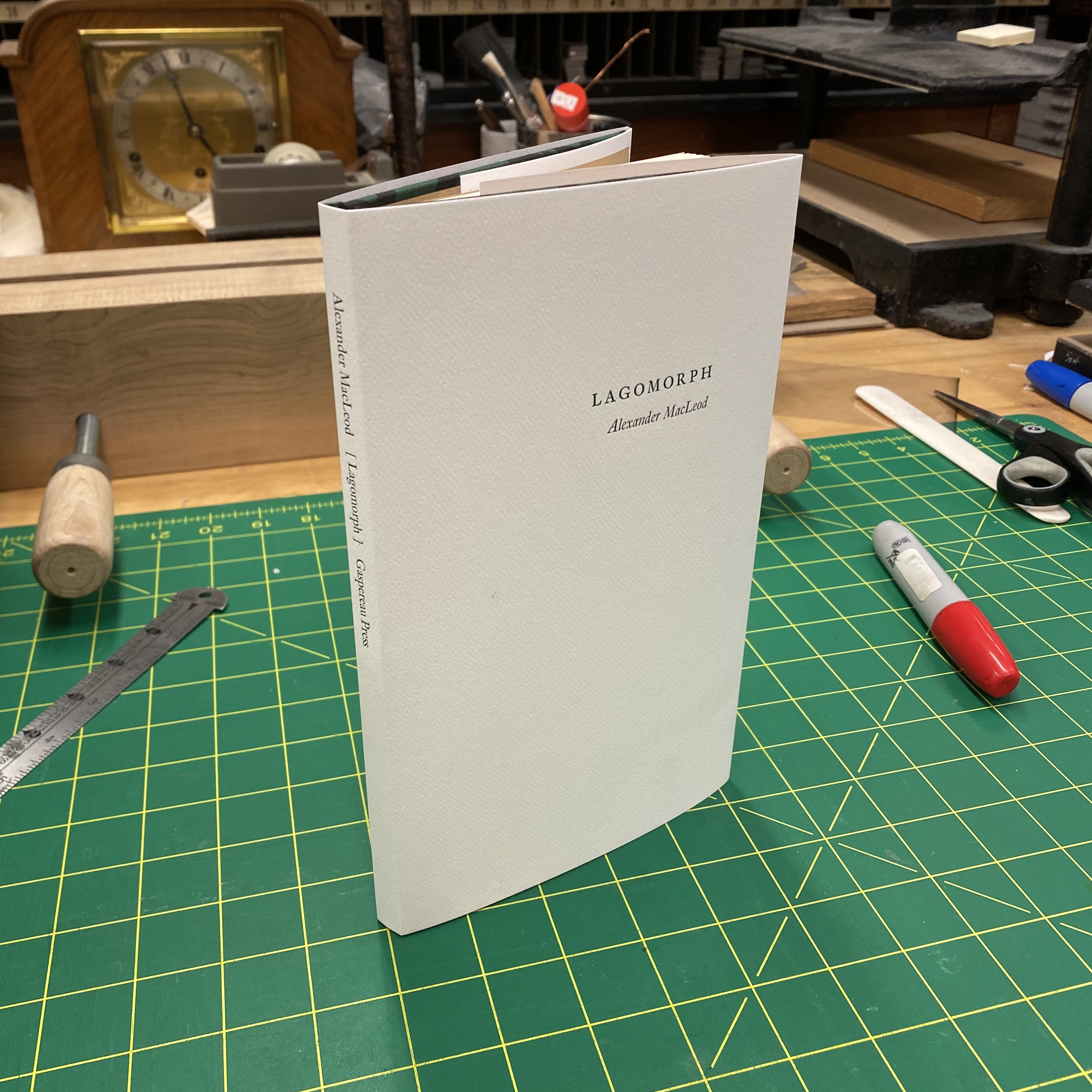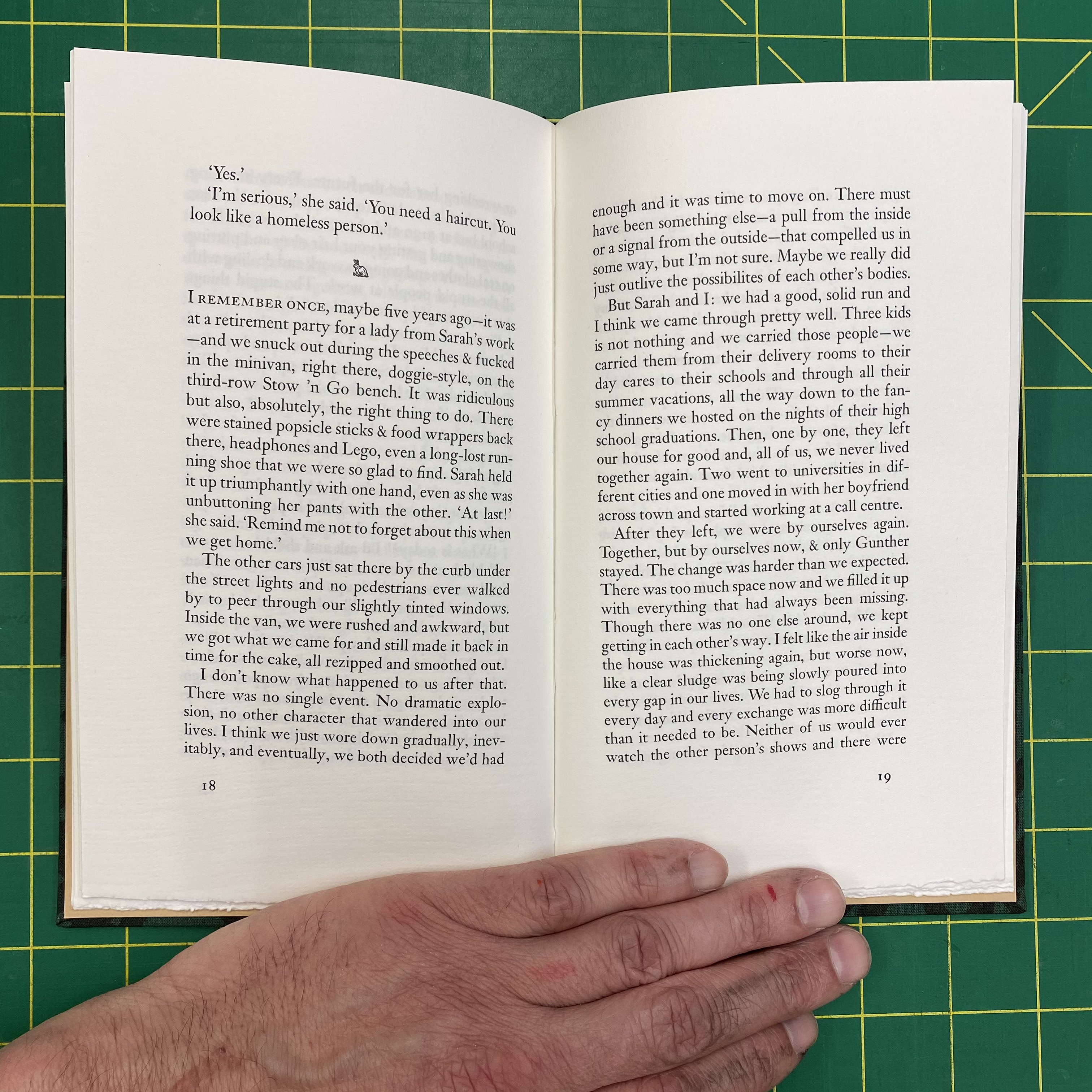 Lagomorph
by Alexander MacLeod

A short story told from the perspective of a father who brought home a rabbit for a family pet, "Lagomorph" explores the significance this critter takes on for the narrator as the family's dynamic shifts and fractures. Originally published in the literary magazine Granta, "Lagomorph" was one of the winners of the 100th O. Henry Prize in 2019. Alexander MacLeod's first collection of stories, Light Lifting, was a finalist for the 2010 Giller Prize. He lives in Dartmouth, Nova Scotia.

Typeset in Linotype Janson. Printed letterpress on Zerkell mouldmade paper, folded, handsewn and trimmed to 5 × 8 .5 inches making 48 pages. Includes an original wood engraving by Wesley Bates. Casebound (cloth over boards) and enfolded in a letterpress-printed jacket. Limited to 80 copies.

Out of print

$130.00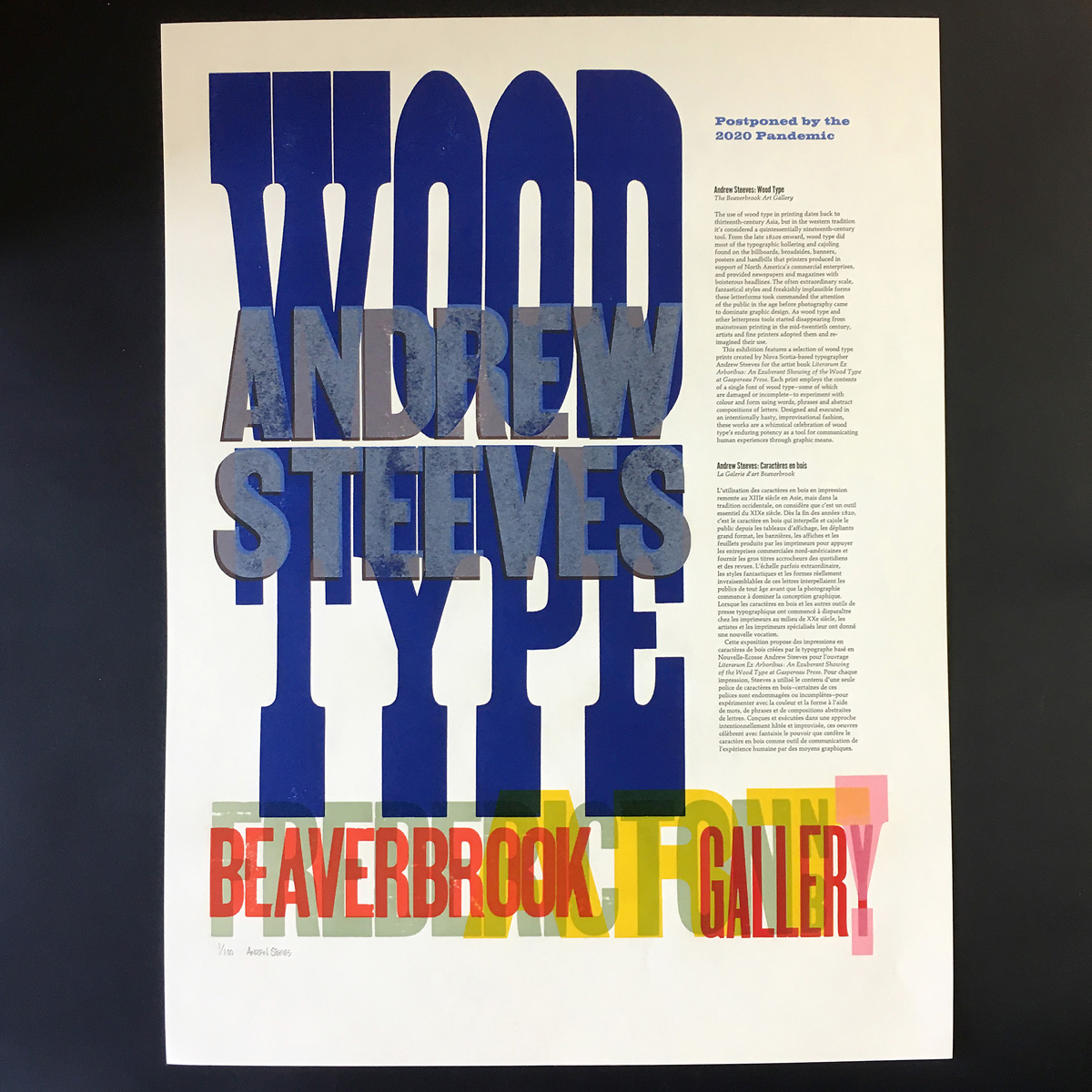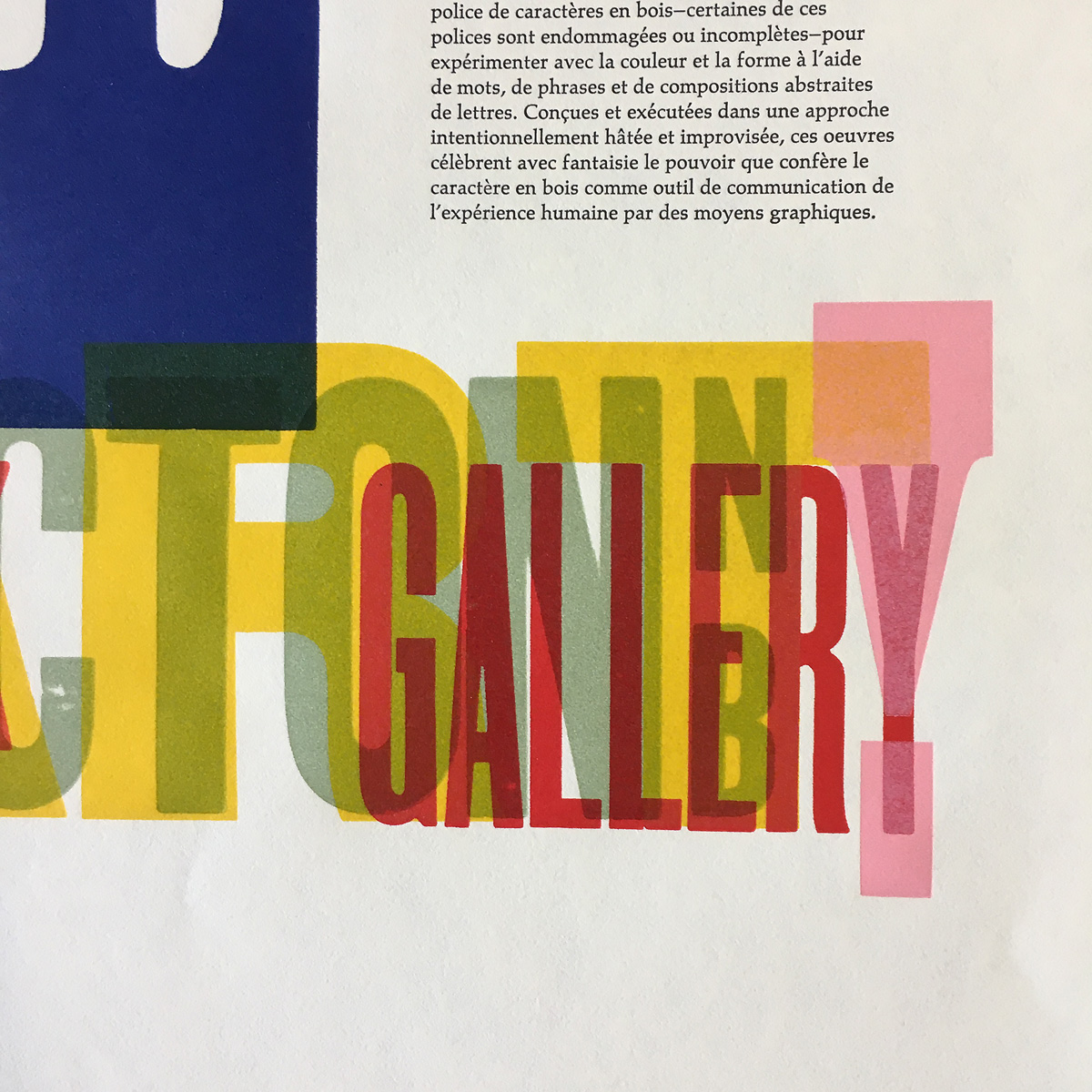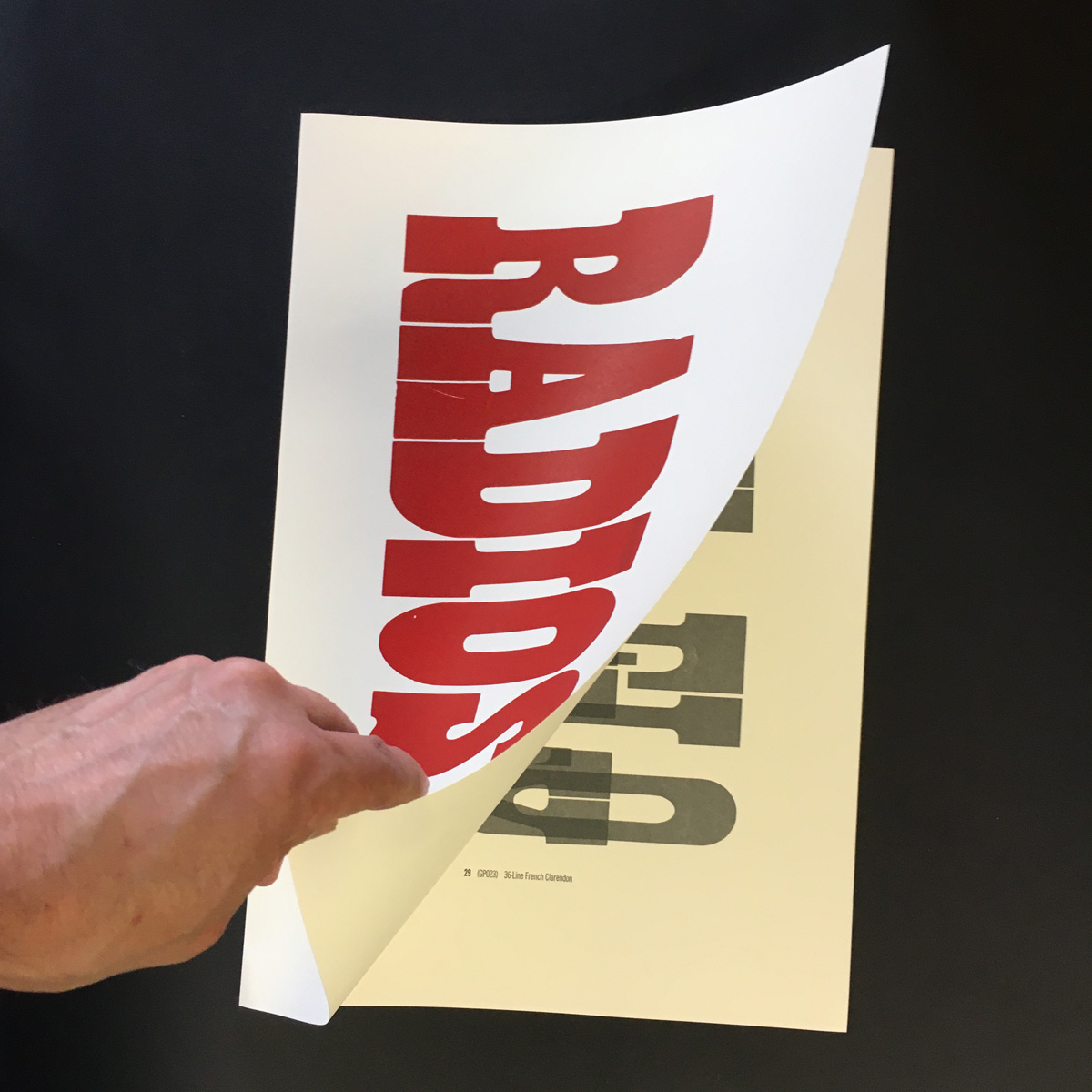 'Wood Type' Exhibition Poster, plus four prints from Literarum Ex Arboribus
by Andrew Steeves

Gaspereau Press is offering a special package of letterpress-printed wood type prints. The package includes a 10-colour letterpress-printed exhibition poster and four randomly-selected wood type prints from Andrew Steeves's recently completed limited-edition book Literarum Ex Arboribus: An Exuberant Showing of the Wood Type at Gaspereau Press.

THE POSTER: The poster was printed for an exhibition of wood type prints selected from Literarum Ex Arboribus. This solo exhibition was scheduled to open at the Beaverbrook Art Gallery in Fredericton, NB, in August 2020, but has been postponed for at least 18 months due to the pandemic. The poster was printed letterpress from wood and metal type, in 10 colours, on 100% cotton Stella Text paper, 17.5 × 23.5 inches. These 100 copies of have been printed with the phrase "Postponed by the 2020 Pandemic" instead of an exhibition date and have been signed and numbered by Andrew Steeves.

THE PRINTS: Andrew Steeves designed and printed 150 different wood type specimens while making Literarum Ex Arboribus, and a few copies of each sheet were left over after the edition was bound. These extra sheets are what we are including in this package. Typically, these prints display a single face of wood type printed in two or more colours on Mohawk Superfine paper. The sheets are 25 × 18.5 inches, folded to 12.5 × 18.5 inches to make a folio that has a print on each recto page. Each package will include two randomly-selected sheets (four prints).

Out of Print

$100.00 This price is inclusive of shipping within North America. Please inquire at info@gaspereau.com for the cost of shipping outside North America.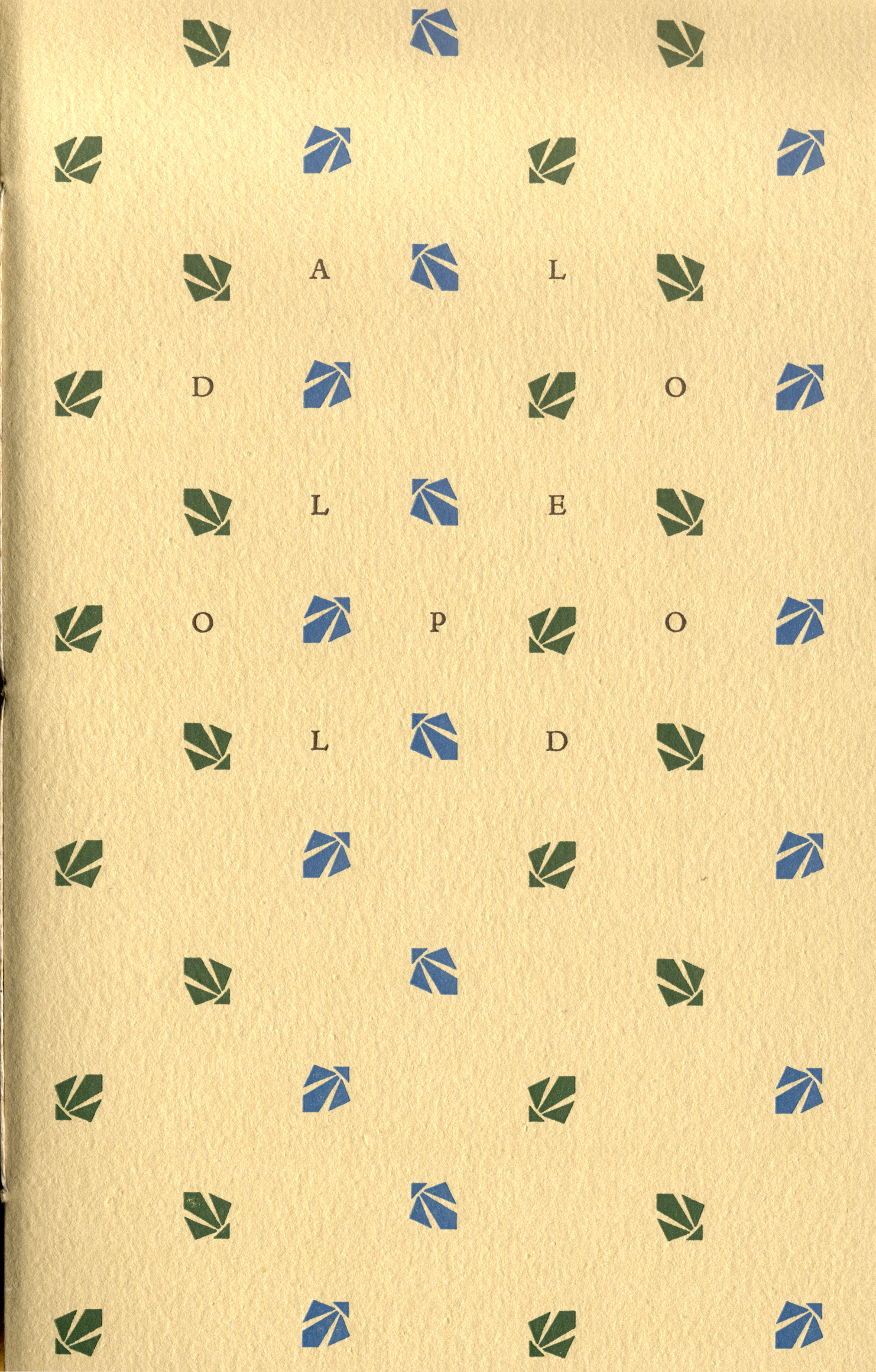 Wherefore Wildlife Ecology?
by Aldo Leopold

Aldo Leopold's work as a forester, an instructor at the University of Wisconsin and author helped to establish the modern land conservation movement. This short essay from 1947, evidently lecture notes, provides useful insight into Leopold's teaching methods, a snapshot of how he framed humankind's relationship to land for his students.

This book was handset in Monotype Dante and printed in a limited edition of 160 copies on a Vandercook proof press. The text paper was handmade in the 1980s by the Imago paper mill in California. Sixteen pages handsewn into a paper wrapper printed in a pattern of ornaments.

$40.00
Notes: Unspecializing Poetry
by Wendell Berry

In this essay, Kentucky writer Wendell Berry counters postmodernism's intellectualized detachment of literature from the tactile world, arguing for poetry that is firmly rooted in the communities out of which it emerges, and for a literary culture that acknowledges its relationship to the world around it, and its responsibility to that world. This essay originally appeared in Berry's collection Standing by Words (1983).

Description: Typeset in Linotype Falcon. Printed on Stella Text cotton paper, 5×7.75 inches, making 64 pages. Black text with spot colour. The books were machine sewn and casebound (cloth over boards) in an edition not to exceed 150 copies.

$120.00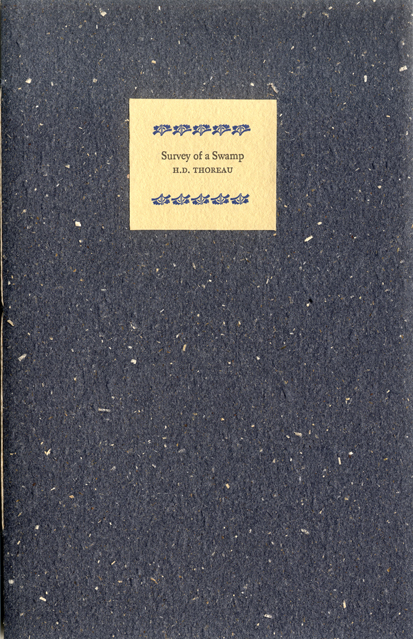 Survey of a Swamp by Henry David Thoreau



Essay 8 pp

Out of Print

$25.00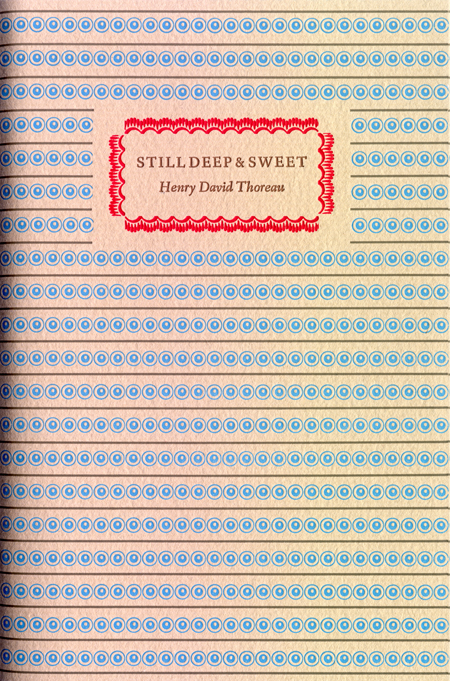 Still Deep & Sweet by Henry David Thoreau



In the spring of 1856, Henry David Thoreau immersed himself in the collection of sap and the production of maple sugar, recording his observations in his journal. This limited-edition letterpress book collects Thoreau's thoughts on maple sugaring and adds to them an afterword by the poet Peter Sanger and two illustrations by J.J. Steeves.

This book was composed in Linotype Fairfield, with Russell Maret's Baker capitals, and printed from the metal on a Vandercook proof press. J.J. Steeves's illustration was printed from a photopolymer plate. The regular edition was printed on Stella Text, a cotton sheet originally milled by Turners Falls Paper for Harold Kyle. They were sewn into a paper cover and enfolded in a decorative wrapper. All aspects of the production of this edition were undertaken by Andrew Steeves. Limited edition of 100 copies.

32 pages. Small octavo.

Out of Print
$70.00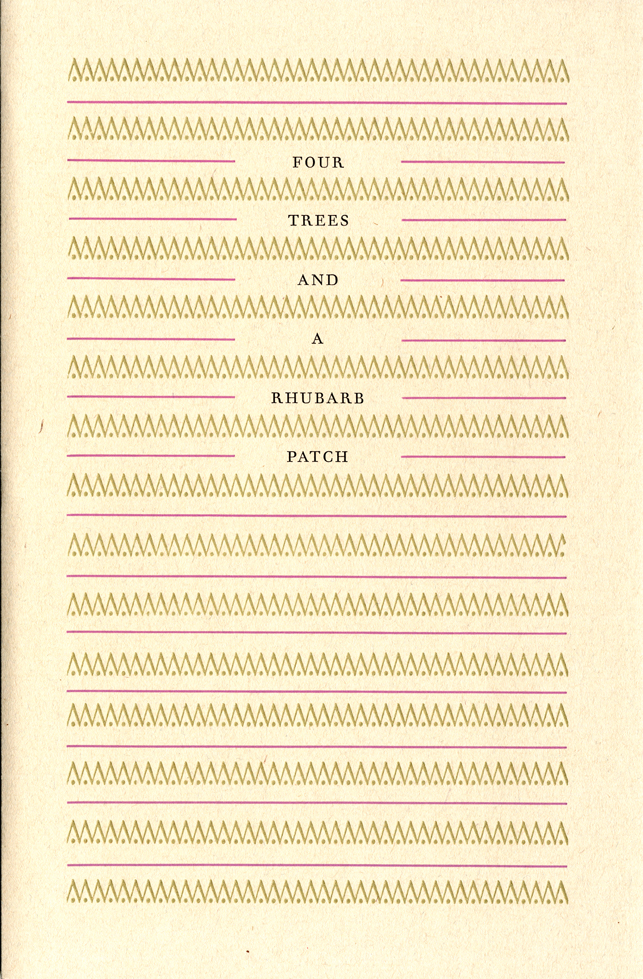 Four Trees and a Rhubarb Patch by Andrew Steeves



Andrew Steeves is a writer, editor, typographer, letterpress printer and literary publisher, and one of the co-founders (with Gary Dunfield) of Gaspereau Press. He has won over 50 citations for excellence in Canadian book design from the Alcuin Society. His essay collection Smoke Proofs: Essays on Literary Publishing, Printing and Typography appeared in 2014.

Out of Print
$30.00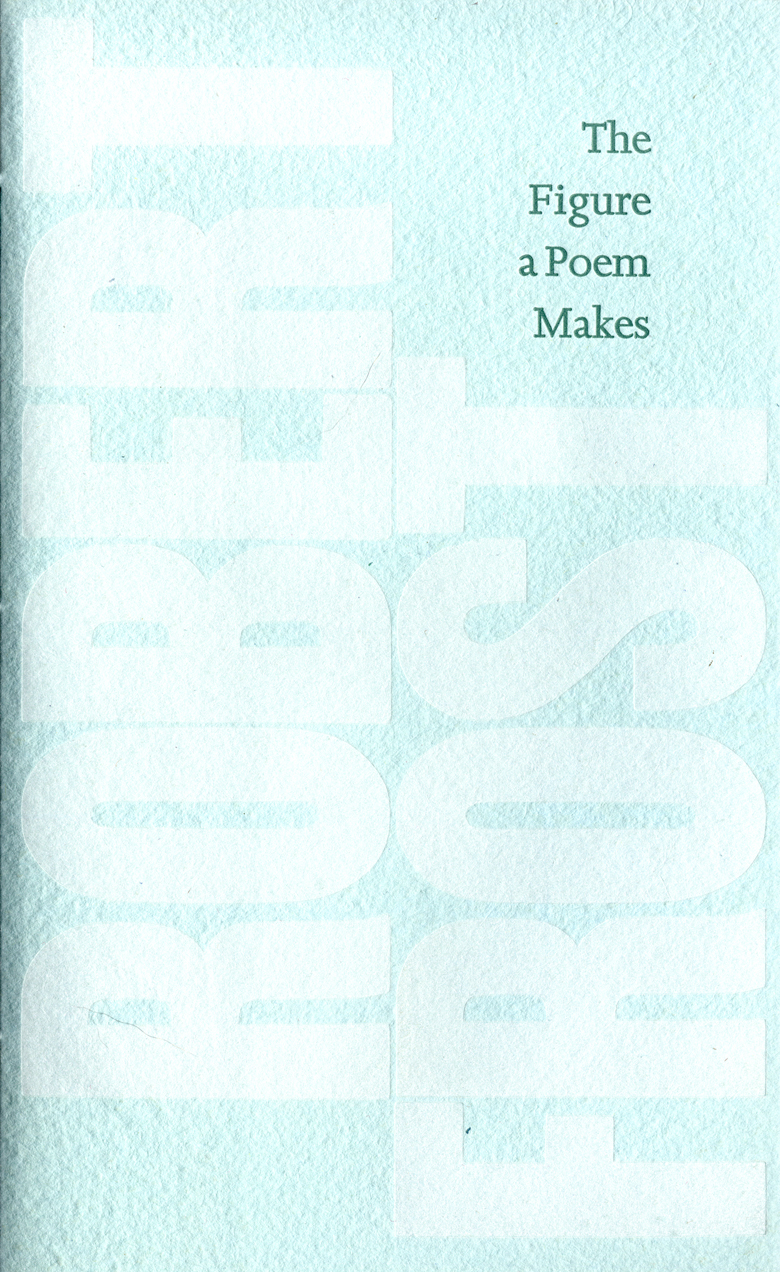 The Figure a Poem Makes by Robert Frost

In his short 1939 essay 'œThe Figure a Poem Makes,' the American poet Robert Frost is at his plucky best, offering the reader equal measures of both terse New-England matter-of-factness and slippery riddling on the subject of writing: 'œthe straight crookedness of a good walking stick.' Frequently mined for its pithy lines, this essay is one of Frost's most concise commentaries on the elusive nature of his craft.

Production Notes: The text was composed from fonts of Monotype Joanna and printed on a Vandercook proof press. The sheet was folded to make 16 pages, 5 by 8.25 inches, and sewn into a paper wrapper. The text paper is Mohawk Superfine. The wrapper paper was made by the Saint Armand paper mill, Montreal, Quebec. The edition is limited to 120 copies. This book was handmade by Andrew Steeves.

Robert Frost (1874–1963) is one of America's best known poets of the twentieth century. He was also a failed poultry farmer and, later, Poet Laureate of Vermont.

$30.00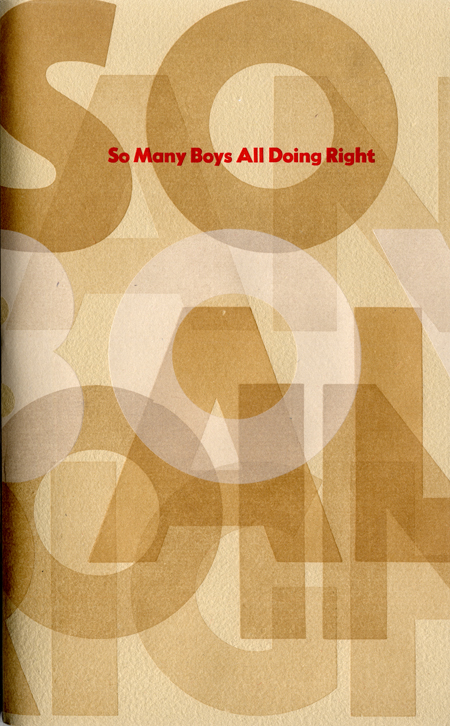 So Many Boys All Doing Right by Sean Howard

Captain Charles Hamilton Sorley died on October 13, 1915, shot by a sniper while preparing to lead his men 'over the top' at the Battle of Loos in France. Aged only 20, he left behind a small number of posthumously published poems and a larger volume of remarkable letters, selected, introduced and edited by his parents. In this book, poet and essayist Sean Howard pays tribute to a writer esteemed by Robert Graves as 'one of the three poets of importance' along with Wilfred Owen and Isaac Rosenberg 'œkilled during the war.'

This book was handprinted on a letterpress in a limited edition of 150 copies. The text of this book was composed in Linotype Trump Medieval and printed on a Vandercook proof press. The text paper is Mohawk Superfine; the wrapper paper is Saint Armand Old Masters. Dyan Hatanaka cut the illustration in linoleum. The book was edited, designed, typeset, printed & bound by Andrew Steeves at Gaspereau Press.

Sean Howard is the author of two collections of poetry, Local Calls (2009) and Incitements (2011), and a work that mixes prose and poetry, The Photographer's Last Picture (2016). As well as appearing in numerous literary journals, his work has been featured in The Best Canadian Poetry in English in both 2011 and 2014. Howard lives in Main-á-Dieu, Cape Breton, and is an adjunct professor of political science at Cape Breton University.

$75.00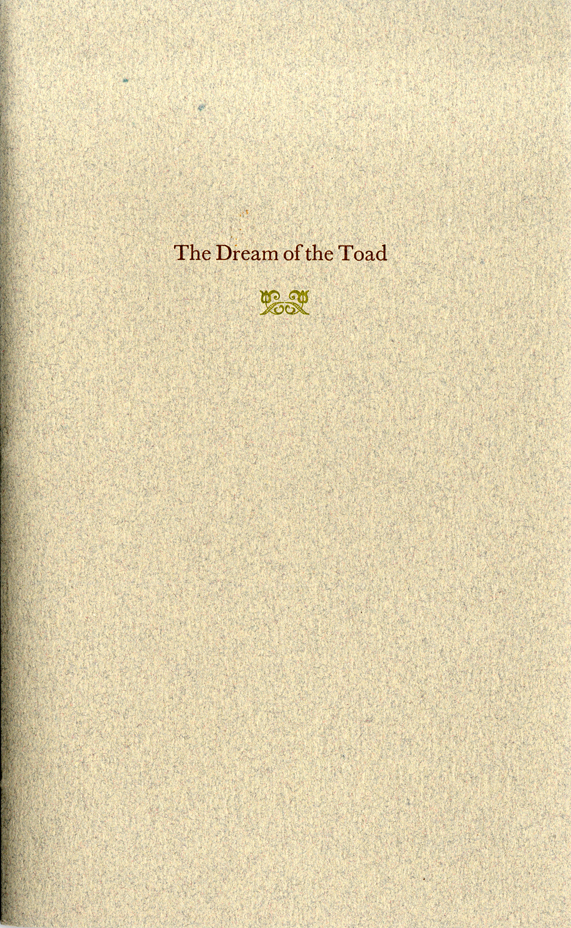 The Dream of the Toad
by Henry David Thoreau

This 12 page chapbook was printed letterpress in four colour son Mohawk Superfine paper and sewn into a paper wrapper. The type was hand composed from fonts of Monotype Baskerville with Linotype ornaments. The operations were carried out by Andrew steeves in the early spring of 2017.

$25.00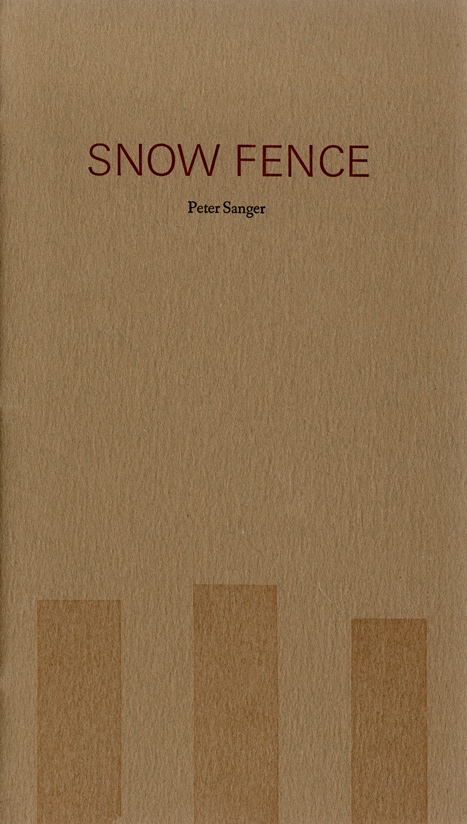 Snow Fence by Peter Sanger

Eight pages printed in three colours on Saint-Gilles handmade paper. Sewn into Saint Armand ˜Canal paper cover printed in three colours. Composed in Linotype Fairfield in August 2016

Out of Print
$25.00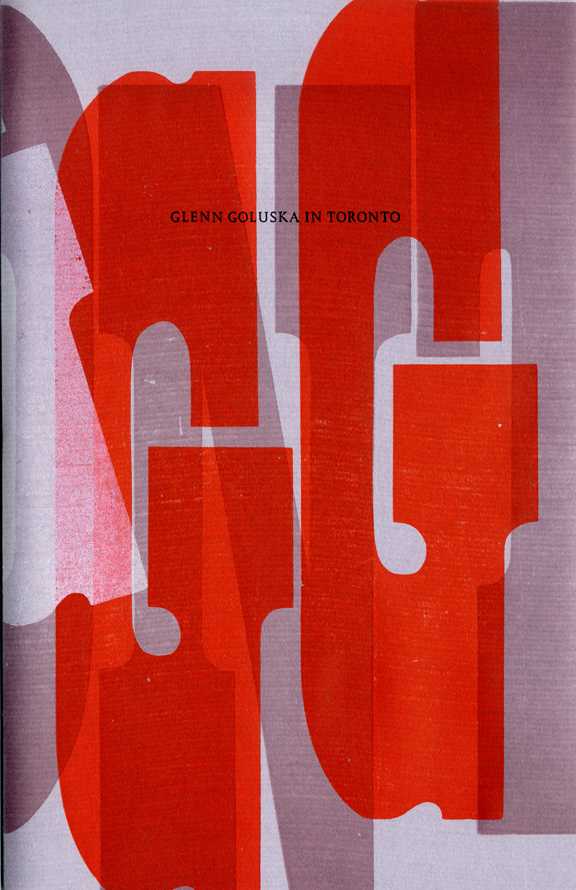 Glenn Goluska in Toronto
by Andrew Steeves

(Out of Print)

Born in Chicago, Glenn Goluska (1947–2011) studied modern languages at the University of Toronto. After establishing his reputation typesetting books at Toronto's infamous Coach House Press in the late 1970s, Goluska went on to found his own letterpress imprints (Imprimerie Dromadaire and Nightshade Press) and to design for both the Canadian Centre for Architecture and McGill-Queen's University Press in Montreal. In 2011, he was awarded the Alcuin Society of Canada's Robert R. Reid Award for his outstanding contribution to the book arts in Canada. His Linotype, press and type are now employed by Andrew Steeves at Gaspereau Press. 2016

Out of Print
$75.00