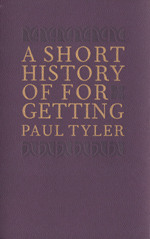 [ Large Cover ]
[ Add to Cart ]
A Short History of Forgetting

Paul Tyler


2010 / Poetry / $19.95
9781554470846 / Trade paper / 80 pp
As first collections of poems go, Paul Tyler's A Short History of Forgetting is remarkable for its confidence, maturity of voice and control of form. Its style ranges from the aggressive pace, short measure and muscular language of its tightly-wound object poems, to gentler, more meditative reflections on aging and the loss of identity and language which comes with it.

Opening with a poem imagining the biblical Adam's reluctant introduction to speech, Tyler moves on to his own sharp-eyed and nimble-tongued naming of the creatures and their characteristics—crickets, midges, silverfish, bees, chickadees. Our own sometimes puzzling tendencies as creatures do not escape his notice, with stops at the seniors' home, behind the grocer's meat counter, the office cubicle, over the fence at the Stanley Park Zoo, and in depictions of the willful vandalism, violence and weed-infested neglect of modern life. Tyler's poems are often riffs on mutability; but this constant forgetting and undoing, this un-naming, is balanced by sharp-focused moments of possibility and precise expression, in which a baseball player's pitch "splits the air," where we are "stitched" by the possible endings of a half-read book, or where "a melodic outline / of words ... sound like forgiveness." Closing with a caretaker's sobering realization that he is the last person to speak an elderly woman's name before her death, A Short History of Forgetting reminds us of the powerful role which language plays in our lives.

Asked what inspired this collection, Tyler says, "All my moving: twelve towns, countless apartments, seven houses by the age of fourteen, several provinces, states, and countries. No doubt this fostered a desire to name the place where I stand, to stop myself from spinning. A Short History of Forgetting is the artifact of this process. Discovering words for the animals, the trees, the history, became a way of adapting. Poems announced themselves as a kind of abstract cataloguing of emotion affiliated with place. Now words echo up from the past, coalesce into histories; new words arrest my attention, shift my perspective, compel me to rename. Vocabulary maps a person. Words take sonar readings of our depths, cultivate mythologies that holds us in place, or permit us passage. This despite the impermanence that defines us. These poems are guesses at things encountered along the way, short histories of a desire to be where I already am."