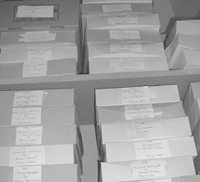 The Twelfth Annual Gaspereau Press Wayzgoose
Saturday 22 October 2011
Announcing the twelfth annual Wayzgoose & Open House to be held at the workshops of Gaspereau Press, Printers & Publishers, located at 47 Church Avenue, Kentville.

What's a Wayzgoose?
Traditionally, a wayzgoose is an annual supper hosted by the proprietors of a printing establishment for their employees. At Gaspereau Press, we've made our wayzgoose a much more public event, and one designed to increase community awareness about the book arts by bringing artists, writers and readers face to face with the people and the tools of the trade: type, ink, paper and the printing press.

Schedule of Events
9:00 am - Noon
Workshops: Printmaking and bookbinding workshops at the Kentville Civic Building. $40 fee. Pre-register at info at gaspereau dot com or 902 678 6002.

10:00 am - Noon
Morning Shop Talks and Demonstrations: The offcut paper sale will also be in its early hours. Free admission.

2:00 pm - 4:30 pm
Open House at Gaspereau Press: All sorts of demonstrations. Free admission.

7:00 - 10:00 pm
Evening Presentations at the Kentville Rec Centre: George Walker will present an illustrated talk entitled Printmaking and the Visual Narrative. This evening will also include readings from their recent Gaspereau Press titles by Norm Ravvin, a Montreal novelist and Sean Howard, a Cape-Breton poet. Andrew Steeves will give brief tributes to two important and recently lost figures in the constellation of Canadian letters: Douglas Lochhead and Glenn Goluska. Free admission.

Event Locations
All events will take place in Kentville, Nova Scotia, at either The Gaspereau Press Printing Works 47 Church Avenue (Green building behind King's Arms Pub)or Kentville Rec Centre 354 Main Street (Brick building attached to Town Hall).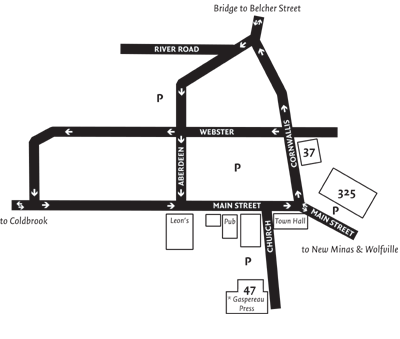 For more information or to register for a workshop, contact:
Gaspereau Press
47 Church Avenue, Kentville, NS B4N 2M7
info at gaspereau dot com Tel 902-678-6002